ZFIN ID: ZDB-FIG-130624-15
Wang et al., 2013
- Genetic Interaction between pku300 and fbn2b Controls Endocardial Cell Proliferation and Valve Development in Zebrafish. Journal of Cell Science 126(Pt 6):1381-91
Full text @ J. Cell Sci.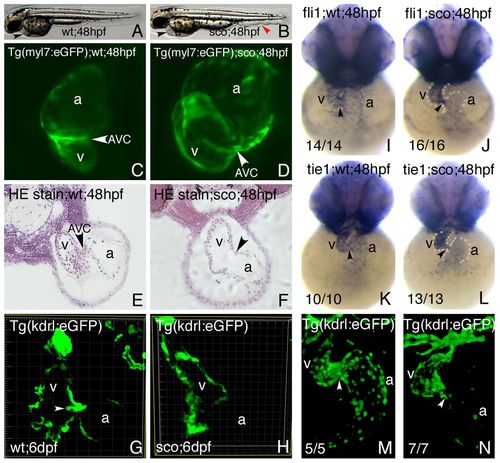 Fig. 1 Endocardial and cardiac valve defects were found in scote382 mutant embryos. (A,B) Brightfield views of live wild-type (A) and scote382 mutant (B) embryos at 48hpf. Note pericardial edema and heart abnormality (black arrowhead), as well as abnormal vessels in the caudal trunk (red arrowhead). (C,D) Confocal images of Tg(myl7:eGFP) transgenic wild-type (C) and scote382 mutant (D) hearts at 48hpf. Note lack of constricted AVC and dilated heart in scote382 mutant (arrowhead). (E,F) Hematoxylin-eosin staining of wild-type (E) and scote382 mutant (F) hearts at 48hpf on transverse JB4 sections. Note lack of AVC constriction (arrowhead) in scote382 mutant heart. (G,H) Valve leaflets (arrowhead) were labeled and detected by the Tg(kdrl:eGFP) transgene in wild-type (G), but not in scote382 mutant (H) embryos at 6dpf on vibrotome sections across the heart. (I–N) Endocardial markers fli1 (I,J) and tie1 (K,L) were expressed in wild-type (I,K) and scote382 mutant (J,L) embryos; and Tg(kdrl:eGFP) labeled the endocardium in wild type (M) and scote382 mutant (N) embryos at 48hpf. Note that endocardial genes (fli1, tie1 and flk1) were reduced in the atrium of scote382 mutants (J,L,N). Arrows point to the AVC. a, atrium; v, ventricle.
Antibody Labeling Details
No data available
Acknowledgments:
ZFIN wishes to thank the journal Journal of Cell Science for permission to reproduce figures from this article. Please note that this material may be protected by copyright. Full text @ J. Cell Sci.