ZFIN ID: ZDB-FIG-190723-468
EXPRESSION / LABELING:
Genes:
Fish:
Knockdown Reagent:
Anatomical Terms:
Stage Range:

Prim-5

to

Prim-15
PHENOTYPE:
| | |
| --- | --- |
| Fish: | |
| Knockdown Reagent: | |
| Observed In: | |
| Stage: | Prim-15 |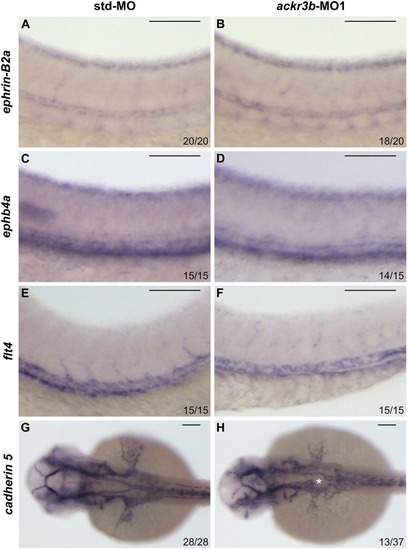 Figure 3
Effect of ackr3b knockdown on arterial/venous differentiation and lateral dorsal aorta (LDA) bifurcation. (A–F) WISH analysis of the arterial marker ephrin-B2a(A,B) and venous markers ephb4a(C,D) and flt4(E,F) expression was performed at 28 hpf on zebrafish embryos injected with std-MO (A,C,E) or ackr3b-MO1 (B,D,F). Arterial and venous marker expression is normal in ackr3b morphants when compared to controls. (G,H) WISH analysis of cadherin 5 expression was performed at 30 hpf on zebrafish embryos injected with std-MO (G) or ackr3b-MO1 (H) to investigate LDA formation. Note the interruption of LDA in ackr3b morphants [asterisk in H]. The number of embryos presenting the showed phenotype in respect to the total number of analyzed embryos is shown in each panel. Scale bar: 100 μm.
Antibody Labeling Details
No data available
Acknowledgments:
This image is the copyrighted work of the attributed author or publisher, and ZFIN has permission only to display this image to its users. Additional permissions should be obtained from the applicable author or publisher of the image. Full text @ Front Immunol