ZFIN ID: ZDB-FIG-171018-27
PHENOTYPE:
| | |
| --- | --- |
| Fish: | |
| Knockdown Reagent: | |
| Observed In: | |
| Stage: | Adult |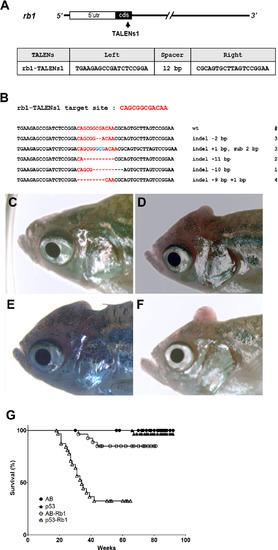 Fig. 3
Somatic inactivation of rb1 by the injection of rb1-TALENs mRNA leads to medulloblastoma like PNETs in F0 founder zebrafish. (A) The targeted region of rb1-TALENs is located in 1st exon of zebrafish rb1 locus. The binding sequences of TALENs for rb1 are indicated. (B) After the injection of rb1-TALENs mRNA, 4 different deletion and 1 insertion germline mutated alleles of rb1 were successfully recovered at F1 generation. Hence, 13 independent lines which have frameshift mutation in rb1 could be obtained. (C–F) Morphological appearance of tumor bearing in head region of 5 month old zebrafish was presented. Protruding tumor mass were observed in rb1-TALENs mRNA injected zebrafish. The same aged wild type (C) and mutant (D–F) zebrafish are shown for comparison. (G) Kaplan-Meier survival representation of wild type, tp53 mutant, and rb1-TALENs injected wild type or tp53 mutant zebrafish. At about 6 month post fertilization, zebrafish which were injected with rb1-TALENs mRNA at one cell stage had started to die with tumors in the head region in wild type adult zebrafish. The tumor incidence which was induced by the injection of rb1-TALENs mRNA was more evident in tp53 mutant zebrafish. Adult zebrafish that showed abnormal swimming behavior started to die with tumor in head regions as early as about 20 weeks after injection of rb1-TALENs mRNA into one cell stage embryos.
Gene Expression Details
No data available
Antibody Labeling Details
No data available
Acknowledgments:
ZFIN wishes to thank the journal Oncotarget for permission to reproduce figures from this article. Please note that this material may be protected by copyright. Full text @ Oncotarget