ZFIN ID: ZDB-FIG-170921-57
EXPRESSION / LABELING:
| | |
| --- | --- |
| Genes: | |
| Antibodies: | |
| Fish: | |
| Knockdown Reagent: | |
| Anatomical Terms: | |
| Stage: | 14-19 somites |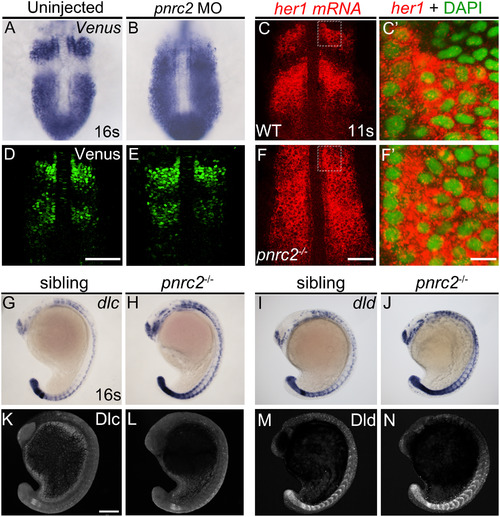 Fig. 7 Both reporter and endogenous cyclic transcripts accumulate in Pnrc2-depleted embryos, but protein expression appears normal. Embryos carrying the her1:her1-Venusbk15transgenic clock reporter were injected with pnrc2 splice-blocking morpholino (sbMO) and processed to detect Venus transcripts (A, B) and Venus protein (D, E) at mid-segmentation stages. Representative embryos are shown in A (n=21/21); B (n=18/18), D (n=32/32), and E (n=29/29). Venus immunofluorescence panels (D, E) are at slightly higher magnification than Venus in situ panels (A, B). Detection of her1 mRNA by in situ hybridization chain reaction (HCR-ISH) (C, F) is consistent with chromogenic NBT/BCIP-based in situ detection of endogenous her1 transcript in wild-type and pnrc2 mutant embryos (Fig. 2F, H'), with substantial cytoplasmic localization revealed by DAPI counter staining in 500X magnified view (C', F'). Because relative intensity of her1 HCR-ISH in pnrc2 mutants to wild-type embryos is high, levels have been reduced in pnrc2 mutant panels (F-F'; see Fig S6 A''', B'''). Misexpression of dlc and dld mRNA is detected throughout the presomitic mesoderm (PSM), formed somites and neurons in the expected one-quarter of embryos in a pnrc2oz22intercross, n=5/28 (Χ2=0.76, p=0.4) and n=7/40 (Χ2=1.2, p=0.3), respectively (G-J). In contrast, Dlc and Dld protein expression is indistinguishable among siblings of the same pnrc2oz22 heterozygote intercross (K-N). Dlc and Dld immunolabeled embryos were genotyped prior to imaging and a subset of wild-type and mutant siblings were imaged by confocal microscopy with representative embryos shown (K-N). Total genotyped individuals per representative panel: n=5 (K), n=6 (L), n=12 (M), n=4 (N). Scale bars=50 µm (D, F), 50 nm (F'), 100 µm (K).
Antibody Labeling Details
Acknowledgments:
ZFIN wishes to thank the journal Developmental Biology for permission to reproduce figures from this article. Please note that this material may be protected by copyright.

Reprinted from Developmental Biology, 429(1), Gallagher, T.L., Tietz, K.T., Morrow, Z.T., McCammon, J.M., Goldrich, M.L., Derr, N.L., Amacher, S.L., Pnrc2 regulates 3'UTR-mediated decay of segmentation clock-associated transcripts during zebrafish segmentation, 225-239, Copyright (2017) with permission from Elsevier. Full text @ Dev. Biol.