ZFIN ID: ZDB-FIG-170921-56
EXPRESSION / LABELING:
| | |
| --- | --- |
| Gene: | |
| Fish: | |
| Knockdown Reagents: | |
| Anatomical Term: | |
| Stage: | 14-19 somites |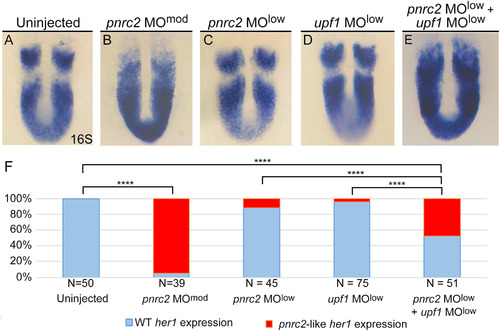 Fig. 6
pnrc2 and the nonsense-mediated decay effector Upf1 promote decay of cyclic mRNA. Injection of low dose pnrc2 sbMO (2 ng) has little to no effect on her1 expression (A, C), contrasting with the expected her1 misexpression observed after injection of moderate dose pnrc2 sbMO (6 ng) (B). Low dose injection of upf1 sbMO (0.25 ng) also has little effect on her1 expression (D), but when combined with a low dose of pnrc2 sbMO (2 ng), her1 misexpression is observed in about 50% of injected embryos (E). The proportion affected in each condition is plotted on a bar graph that indicates significant differences between single morphants, double morphants, and controls (F). sbMO = splice-blocking MO; **** = p<0.0001.
Antibody Labeling Details
No data available
Acknowledgments:
ZFIN wishes to thank the journal Developmental Biology for permission to reproduce figures from this article. Please note that this material may be protected by copyright.

Reprinted from Developmental Biology, 429(1), Gallagher, T.L., Tietz, K.T., Morrow, Z.T., McCammon, J.M., Goldrich, M.L., Derr, N.L., Amacher, S.L., Pnrc2 regulates 3'UTR-mediated decay of segmentation clock-associated transcripts during zebrafish segmentation, 225-239, Copyright (2017) with permission from Elsevier. Full text @ Dev. Biol.