ZFIN ID: ZDB-FIG-170321-28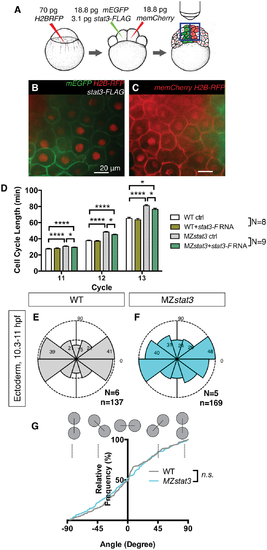 Fig. 6
Stat3 promotes post-MBT cell divisions but does not regulate cell division orientation during zebrafish embryogenesis.
(A) Experimental design for post-MBT cell cycle analyses. Embryos labeled ubiquitously with histone2B-RFP (H2B-RFP) were mosaically injected with memCherry or mGFP + stat3-F mRNA at 8-cell stage for lineage tracing. Labeled clones (B and C) within the same embryo were monitored using confocal time-lapse microscopy (See also Materials and methods). (D) Analyses of cell cycle lengths for Cycle 11–13 in WT, WT overexpressing Stat3-F, MZstat3, and MZstat3 overexpressing Stat3-F embryos. (E-G) Cell division orientation in dorsal neuroectoderm in WT (E) and MZstat3 (F) embryos during 1–3 somite stages, with 0 degrees representing mediolaterally aligned cell divisions and 90 degrees representing anteroposteriorly aligned cell divisions, quantified in G. *p<0.05, **p<0.01, ****p<0.0001, n.s. = non-significant, error bars = SEM. See also S7 Fig.
Gene Expression Details
No data available
Antibody Labeling Details
No data available
Acknowledgments:
ZFIN wishes to thank the journal PLoS Genetics for permission to reproduce figures from this article. Please note that this material may be protected by copyright. Full text @ PLoS Genet.