ZFIN ID: ZDB-FIG-160927-14
EXPRESSION / LABELING:
| | |
| --- | --- |
| Genes: | |
| Antibodies: | |
| Fish: | |
| Anatomical Terms: | |
| Stage: | Adult |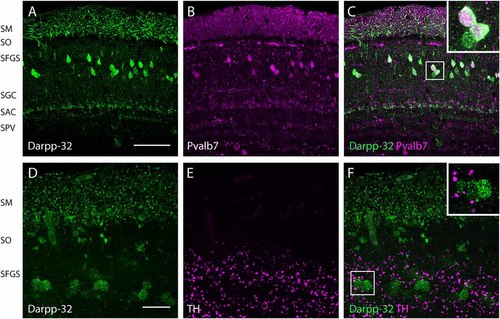 Fig. 6
Expression of Darpp-32, Pvalb7 and tyrosine hydroxylase (TH) in the layers of the adult optic tectum. Sagittal sections of the adult optic tectum, dorsal to the top. (A-C) Colocalization of Darpp-32 and Pvalb7 immunoreactivity in somata in the SFGS and in dendrites in SM. The principal dendrite cannot always be fully seen because it does not necessary lie within the plane of the optical section shown. The layers of the optic tectum are indicated on the left hand side. Scale bar: 20 µm. However, note that the expression of Darpp-32 and Pvalb7 in the synaptic layers ventral to the SM does not overlap. (D-F) Intense TH positive fibers are visible in the vicinity of Darpp-32 expressing cell bodies. Scale bar: 50 µm. Abbreviations of the tectal layers from dorsal to ventral: SM, stratum marginale; SO, stratum opticum; SFGS, stratum fibrosum et griseum superficiale; SGC, stratum griseum central; SAC, stratum album central; SPV, stratum periventriculare.
Antibody Labeling Details
Phenotype Details
No data available
Acknowledgments:
ZFIN wishes to thank the journal Frontiers in Neuroanatomy for permission to reproduce figures from this article. Please note that this material may be protected by copyright. Full text @ Front. Neuroanat.