ZFIN ID: ZDB-FIG-160927-15
EXPRESSION / LABELING:
| | |
| --- | --- |
| Gene: | |
| Antibodies: | |
| Fish: | |
| Anatomical Terms: | |
| Stage: | Adult |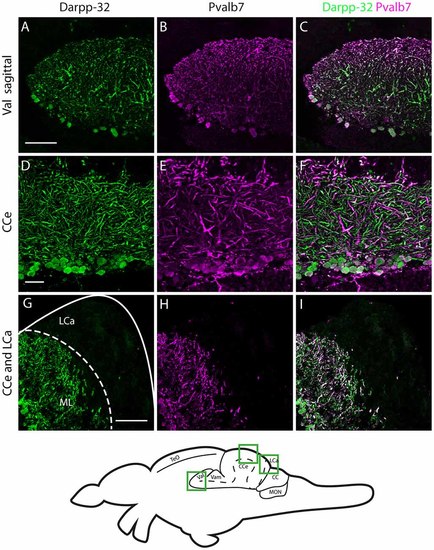 Fig. 7
Darpp-32 and Pvalb7 expression in the cerebellum of the adult zebrafish brain. (A-C) Sagittal brain slices of the lateral division of the valvula cerebelli (Val). (D-F) Purkinje cell layer and molecular layer of the corpus cerebelli (CCe). (G-I) The caudal part of the CCe, including the lobus caudalis cerebelli (LCa). The expression of Darpp-32 and Pvalb7 overlaps in all the structures shown, albeit the intensity of expression is heterogenous. Note the restriction of expression of Darpp-32 and Pvalb7 expression to the molecular layer and Purkinje cells in (G-I). The LCa does not show any Darpp-32 staining. Scale bar in (A-C) and (G-I) is 50 µm. Scale bar in (D-F) is 20 µm. The schematic indicates the regions where the images were taken.
Antibody Labeling Details
Phenotype Details
No data available
Acknowledgments:
ZFIN wishes to thank the journal Frontiers in Neuroanatomy for permission to reproduce figures from this article. Please note that this material may be protected by copyright. Full text @ Front. Neuroanat.