ZFIN ID: ZDB-FIG-160926-12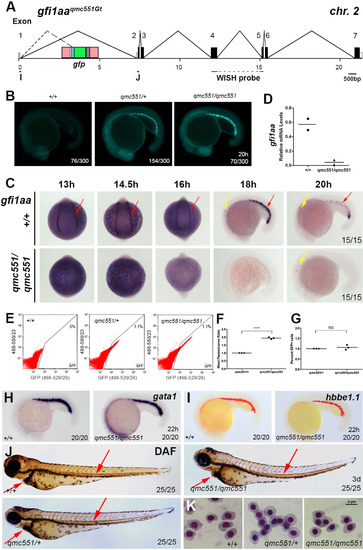 Fig. 5
Gfi1aa expression is lost in primitive erythrocytes of homozygous qmc551 embryos, yet primitive haematopoiesis is unaffected. (A) Genomic organization of the gfi1aaqmc551Gt locus. Oligos I and J were used in the RT-PCR experiments. The sequence complementary to the gfi1aa WISH probe is indicated. The TaqMan probe overlapped with the exon 1/2 boundary and is not shown. (B) Fluorescent images of 20 hpf wt, qmc551 heterozygous and homozygous siblings from an incross of qmc551 heterozygous carriers. (C,H,I,L,M) RNA WISH experiments with indicated probes on 13-20 hpf wt and qmc551 homozygous embryos. Views are posterior with anterior up on all images of 13-16 hpf and lateral with anterior to the left and dorsal up on all images of 18, 20 and 22 hpf embryos. (D) QRT-PCR to determine relative levels of gfi1aa mRNA in 16 hpf whole embryos. EF1α mRNA was used as a loading control. (E) Flow cytometric analysis of embryonic cells at 19 hpf showing green and red fluorescence excited with a 488 nm laser, and detected using the band pass filters 529/28 and 580/23 (central wavelength/width in nm), respectively. (F) Mean green fluorescence observed in GFP+ cells in embryos at 19 hpf. Please note that values are shown relative to heterozygous controls (Two-tailed t-test: p<0.0001). (G) The relative numbers of GFP+ cells in embryos at 19 hpf. (J,Q) Diaminofluorene staining to detect hemoglobin in 3 dpf embryos. (K,R) Images of prRBCs that were isolated from the sinus venosus of terminally anaesthetized 3 day-old embryos and stained with May-Grünwald and Giemsa. (N) Structure of the gfi1b transcript before and after splicing in the presence and absence of gfi1b morpholinos. In the morphant, exon 3 and 5 sequences are spliced together (dashed line). (O) RT-PCR performed on RNA isolated from uninjected and morpholino-injected wt embryos. (P)gfi1b cDNA sequence representing the alternatively spliced gfi1b mRNA isolated from gfi1b morphant embryos. PCR oligo and divergent C-terminal amino acid sequences are underlined. Sequences derived from different exons are shown in different colors. The numbering of nucleotides corresponds to that of database entry NM_001271841. Encoded amino acids are counted below. Arrows: red - prRBCs, yellow - inner ear hair cells, light blue - anterior lateral mesoderm, orange - hatching gland precursors. Arrowheads: red - prRBCs in heart. Fractions x/y give the number of embryos, x, with depicted phenotype out of all embryos analyzed, y. Embryos are shown with anterior left and dorsal up.
Antibody Labeling Details
No data available
Acknowledgments:
This image is the copyrighted work of the attributed author or publisher, and ZFIN has permission only to display this image to its users. Additional permissions should be obtained from the applicable author or publisher of the image.

Reprinted from Developmental Biology, 417(1), Thambyrajah, R., Ucanok, D., Jalali, M., Hough, Y., Wilkinson, R.N., McMahon, K., Moore, C., Gering, M., A gene trap transposon eliminates haematopoietic expression of zebrafish Gfi1aa, but does not interfere with haematopoiesis, 25-39, Copyright (2016) with permission from Elsevier. Full text @ Dev. Biol.