ZFIN ID: ZDB-FIG-160713-4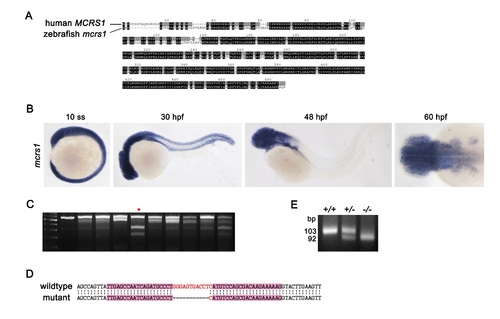 Fig. S5
TALEN-mediated knockout of mcrs1 in zebrafish. (A) Alignment of human and zebrafish MCRS1 protein sequence (ClustaIX program). (B) Expression of mcrs1 mRNA during embryonic development was examined by whole-mount in situ hybridization (ss, somite stage; hpf, hours after fertilization). (C) T7E1 cleavage assay for the identification of zebrafish carrying a deletion in mcrs1 gene. Cleaved bands in lane 5 indicates mcrs1 het mutation. (D) Deletion of 11 base pairs in mcrs1 gene exon 4 was confirmed by DNA sequencing. (E) Genotyping of mcrs1 mutants using PCR.
Antibody Labeling Details
No data available
Phenotype Details
No data available
Acknowledgments:
ZFIN wishes to thank the journal Scientific Reports for permission to reproduce figures from this article. Please note that this material may be protected by copyright. Full text @ Sci. Rep.