ZFIN ID: ZDB-FIG-160630-29
Your Input Welcome
Thank you for submitting comments. Your input has been emailed to ZFIN curators who may contact you if additional information is required.
Oops. Something went wrong. Please try again later.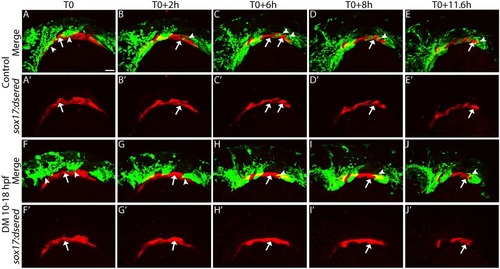 Fig. 6
Bmp signaling regulates pouch morphogenesis. Still images from confocal time-lapse movies of sox17:dsred; sox10:EGFP double-transgenic embryos. (A,A′,F,F′) 18hpf embryos at the initiation of the movie (T0). (A-E′) Pouches (arrows) form in a sequential fashion to segregate the pharyngeal arches (arrowheads) in control embryos. (F-J′) In Dorsomorphin-treated embryos, pouch formation and arch segmentation fail. Lateral views, anterior to the left. Scale bar: 50µm.
Gene Expression Details
No data available
Antibody Labeling Details
No data available
Phenotype Details
| Fish | Conditions | Stage | Phenotype |
| --- | --- | --- | --- |
| s903Tg ; ba2Tg | chemical treatment: dorsomorphin | 14-19 somites | pharyngeal arch 1 morphology, abnormal |
| | | 14-19 somites | pharyngeal arch 2 morphology, abnormal |
| | | 14-19 somites | pharyngeal pouch 1 hypoplastic, abnormal |
| | | 14-19 somites | pharyngeal system development disrupted, abnormal |
| | | 20-25 somites | pharyngeal pouch 1 hypoplastic, abnormal |
| | | 20-25 somites | pharyngeal pouch 2 hypoplastic, abnormal |
| | | 20-25 somites | pharyngeal system development disrupted, abnormal |
| | | Prim-5 | pharyngeal arch 3-7 hypoplastic, abnormal |
| | | Prim-5 | pharyngeal pouch 1 hypoplastic, abnormal |
| | | Prim-5 | pharyngeal pouches 2-6 hypoplastic, abnormal |
| | | Prim-5 | pharyngeal system development disrupted, abnormal |
Acknowledgments:
ZFIN wishes to thank the journal Development (Cambridge, England) for permission to reproduce figures from this article. Please note that this material may be protected by copyright. Full text @ Development