ZFIN ID: ZDB-FIG-151130-34
Your Input Welcome
Thank you for submitting comments. Your input has been emailed to ZFIN curators who may contact you if additional information is required.
Oops. Something went wrong. Please try again later.
Swindell et al., 2015
- Crispld2 is required for neural crest cell migration and cell viability during zebrafish craniofacial development. Genesis (New York, N.Y. : 2000) 53(10):660-7
Full text @ Genesis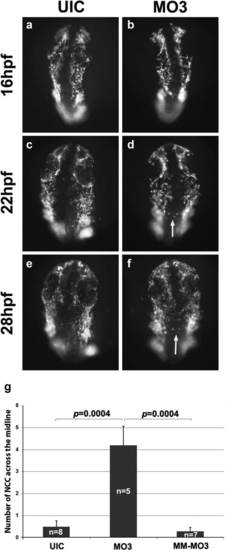 Fig. 1
NCC migration is disorganized in MO3 morphants. Time-lapse live cell imaging captures of sox10:GFP embryos showing migrating NCC cells at 16 (a, b), 22 (c, d), and 28 hpf (e, f). UIC (a, c, and e) and MO3-injected embryos (b, d, and f) showing a dorsal view of migrating NCCs. White arrows point to abnormally migrating NCCs. (g) Quantification of number of cells crossing the midline in UIC, MO3 and control MM-MO3 injected embryos.
Antibody Labeling Details
No data available
Acknowledgments:
ZFIN wishes to thank the journal Genesis (New York, N.Y. : 2000) for permission to reproduce figures from this article. Please note that this material may be protected by copyright. Full text @ Genesis