ZFIN ID: ZDB-FIG-150511-9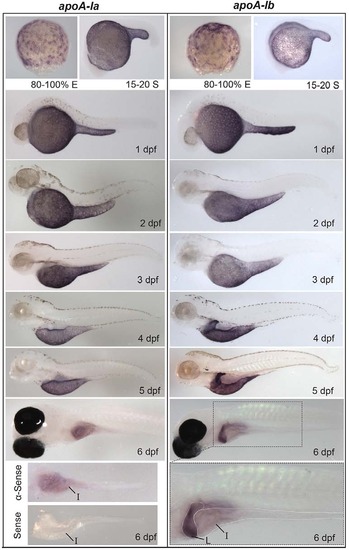 Fig. 2
Developmental mRNA expression patterns of apoA-Ia and apoA-Ib. In situ hybridization of apoA-Ia and apoA-Ib during gastrulation [80-100% epiboly (E)], somitogenesis [15-20 somite (S)], and daily until 6 dpf. Both genes localize to the YSL from somitogenesis through 5 dpf, apoA-Ia localizes to the intestine (I) at 6 dpf, and apoA-Ib localizes strongly to the liver (L) and weakly to the intestine at 6 dpf. All zebrafish are wild type except 6-dpf larvae, which are nacre-/-. Larvae studied at 2-5 dpf were treated with PTU to prevent pigment formation. No signal was observed for either gene at the eight-cell stage or blastulation (supplementary material Fig. S1). Experiments were performed three times for each gene at each stage with ne5 embryos or larvae per probe per experiment.
Antibody Labeling Details
No data available
Phenotype Details
No data available
Acknowledgments:
ZFIN wishes to thank the journal Disease models & mechanisms for permission to reproduce figures from this article. Please note that this material may be protected by copyright. Full text @ Dis. Model. Mech.