ZFIN ID: ZDB-FIG-150402-1
Kok et al., 2015
- Reverse Genetic Screening Reveals Poor Correlation between Morpholino-Induced and Mutant Phenotypes in Zebrafish. Developmental Cell 32(1):97-108
Full text @ Dev. Cell
EXPRESSION / LABELING:
| | |
| --- | --- |
| Gene: | |
| Fish: | |
| Anatomical Term: | |
| Stage: | Prim-5 |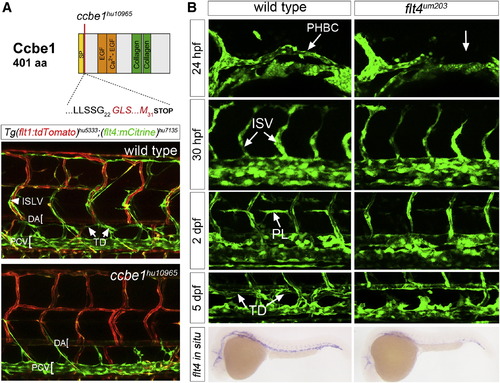 Fig. 1
TALEN-Generated Mutations in ccbe1 and flt4 Cause Lymphatic Defects
(A) Schematic of Ccbe1 protein indicating position of the ccbe1hu10965 frameshift. SP, signal peptide; EGF, EGF-like domain; Ca2+-EGF, calcium-binding EGF-like domain; and collagen, collagen-like domain. Images are confocal micrographs of wild-type or ccbe1hu10965 mutant embryo bearing Tg(flt4:mCitrine)hu7135 (green) and Tg(flt1:tdTomato)hu5333 (red) transgenes. Homozygous ccbe1hu10965 mutants lacked the TD and ISLVs at 5 days postfertilization; position of the DA and posterior cardinal vein (PCV) are indicated. Lateral views, anterior to the left, and dorsal is up.
(B) Confocal micrographs of Tg(fli1a:egfp)y1 wild-type and flt4um203 sibling embryos at 24 hrpf, 30 hrpf, 2 days postfertilization, and 5 days postfertilization. Positions of the PHBC, ISVs, PLs, and TD are indicated. All of these structures except ISVs are missing in flt4um203 mutants at indicated stages (right). (Bottom) flt4 transcript by whole mount in situ hybridization in wild-type and flt4um203 mutant embryos at 28 hrpf. Lateral views, anterior to the left, and dorsal is up.
Antibody Labeling Details
No data available
Acknowledgments:
ZFIN wishes to thank the journal Developmental Cell for permission to reproduce figures from this article. Please note that this material may be protected by copyright.

Reprinted from Developmental Cell, 32(1), Kok, F.O., Shin, M., Ni, C., Gupta, A., Grosse, A.S., van Impel, A., Kirchmaier, B.C., Peterson-Maduro, J., Kourkoulis, G., Male, I., DeSantis, D.F., Sheppard-Tindell, S., Ebarasi, L., Betsholtz, C., Schulte-Merker, S., Wolfe, S.A., Lawson, N.D., Reverse Genetic Screening Reveals Poor Correlation between Morpholino-Induced and Mutant Phenotypes in Zebrafish, 97-108, Copyright (2015) with permission from Elsevier. Full text @ Dev. Cell