ZFIN ID: ZDB-FIG-150402-3
Kok et al., 2015
- Reverse Genetic Screening Reveals Poor Correlation between Morpholino-Induced and Mutant Phenotypes in Zebrafish. Developmental Cell 32(1):97-108
Full text @ Dev. Cell
PHENOTYPE:
| | |
| --- | --- |
| Fish: | |
| Observed In: | |
| Stage: | Day 5 |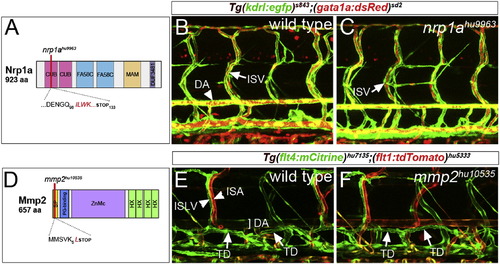 Fig. 3
Normal Vascular and Lymphatic Development in nrp1a and mmp2 Mutant Embryos
(A) Schematic of Nrp1a domain structure, indicating position of nrp1ahu9963. CUB, CUB domain; FA58C, coagulation factor 5/8 C-terminal domain; MAM, MAM domain; and DUF3481, domain of unknown function.
(B and C) Confocal micrograph of embryos bearing Tg(kdrl:egfp)s843 (green) and Tg(gata1a:dsRed)sd2 (red) transgenes at 5 days postfertilization. (B) Wild-type: DA and ISV are indicated. (C) nrp1ahu9963 mutant: ISV carrying red blood cells is indicated.
(D) Schematic of the Mmp2 and mmp2hu10535 allele. SP, signal peptide; PG-binding, peptidoglycan-binding domain; ZnMc, zinc-dependent metalloprotease; and HX, hemopexin-like repeats.
(E and F) Confocal micrographs of embryos bearing Tg(flt4:mCitrine)hu7135 (green) and Tg(flt1:tdTomato)hu5333 (red) transgenes. (E) Wild-type: ISLV, intersegmental artery (ISA), DA, and TD are indicated. (F) mmp2hu10535 mutant embryo.
Gene Expression Details
No data available
Antibody Labeling Details
No data available
Acknowledgments:
ZFIN wishes to thank the journal Developmental Cell for permission to reproduce figures from this article. Please note that this material may be protected by copyright.

Reprinted from Developmental Cell, 32(1), Kok, F.O., Shin, M., Ni, C., Gupta, A., Grosse, A.S., van Impel, A., Kirchmaier, B.C., Peterson-Maduro, J., Kourkoulis, G., Male, I., DeSantis, D.F., Sheppard-Tindell, S., Ebarasi, L., Betsholtz, C., Schulte-Merker, S., Wolfe, S.A., Lawson, N.D., Reverse Genetic Screening Reveals Poor Correlation between Morpholino-Induced and Mutant Phenotypes in Zebrafish, 97-108, Copyright (2015) with permission from Elsevier. Full text @ Dev. Cell