ZFIN ID: ZDB-FIG-150115-35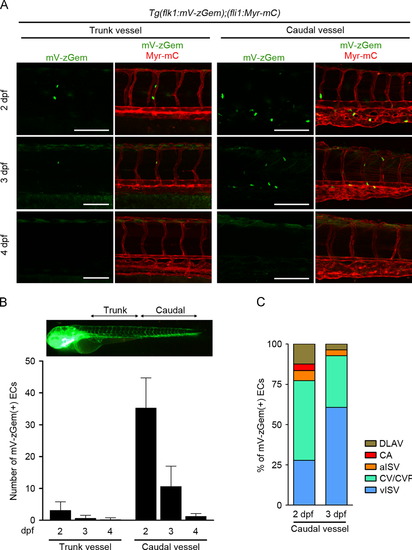 Fig. 7
Cell-cycle progression of ECs during the late stage of vascular development. (A) 3D-rendered confocal images of the trunk (left) and caudal (right) vasculature in the Tg(flk1:mV-zGem);(fli1:Myr-mC) embryos at 2, 3 and 4 dpf as indicated at the left. Left, mVenus image; right, the merged image of mVenus (green) and mCherry (red). Scale bars, 100 μm. (B) The numbers of mVenus-positive ECs in the trunk and caudal vasculature at 2, 3 and 4 dpf, as observed in A, were counted and shown as means±s.d. (2 dpf [n=16], 3 dpf [n=14], 4 dpf [n=13]). (C) The numbers of mVenus-positive ECs in the DLAV, CA, arterial ISV (aISV), CV/CVP and venous ISV (vISV) of the caudal vasculature at 2 and 3 dpf were quantified, and then expressed as percentages of the total number (2 dpf [n=97], 3 dpf [n=28]).
Antibody Labeling Details
No data available
Phenotype Details
No data available
Acknowledgments:
ZFIN wishes to thank the journal Developmental Biology for permission to reproduce figures from this article. Please note that this material may be protected by copyright.

Reprinted from Developmental Biology, 393(1), Fukuhara, S., Zhang, J., Yuge, S., Ando, K., Wakayama, Y., Sakaue-Sawano, A., Miyawaki, A., Mochizuki, N., Visualizing the cell-cycle progression of endothelial cells in zebrafish, 10-23, Copyright (2014) with permission from Elsevier. Full text @ Dev. Biol.