ZFIN ID: ZDB-FIG-150115-28
EXPRESSION / LABELING:
| | |
| --- | --- |
| Genes: | |
| Fish: | |
| Knockdown Reagent: | |
| Anatomical Terms: | |
| Stage: | Long-pec |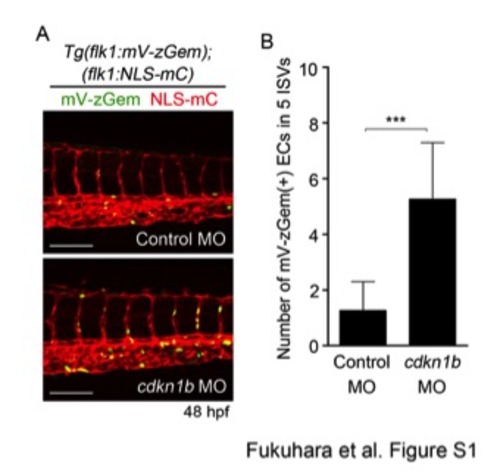 Fig. S1 Time-lapse confocal imaging of an EC-zFucci embryo. (A) 3D-rendered confocal images of the trunk regions of Tg(flk1:mV-zGem);(flk1:NLS-mC) embryos injected with control MO (upper panel) or cdkn1b MO (lower panel) at 48 hpf. Upper, merged images (mVenus [green] and mCherry [red]) of control morphants; lower, those of cdkn1b morphants. (B) The number of mV-zGem-positive cells within the five ISVs. Data are shown as mean ± s.d. (n=15). ***p<0.001.
Antibody Labeling Details
No data available
Phenotype Details
No data available
Acknowledgments:
ZFIN wishes to thank the journal Developmental Biology for permission to reproduce figures from this article. Please note that this material may be protected by copyright.

Reprinted from Developmental Biology, 393(1), Fukuhara, S., Zhang, J., Yuge, S., Ando, K., Wakayama, Y., Sakaue-Sawano, A., Miyawaki, A., Mochizuki, N., Visualizing the cell-cycle progression of endothelial cells in zebrafish, 10-23, Copyright (2014) with permission from Elsevier. Full text @ Dev. Biol.