ZFIN ID: ZDB-FIG-140319-70
Nguyen et al., 2000
- Dorsal and intermediate neuronal cell types of the spinal cord are established by a BMP signaling pathway. Development (Cambridge, England) 127(6):1209-1220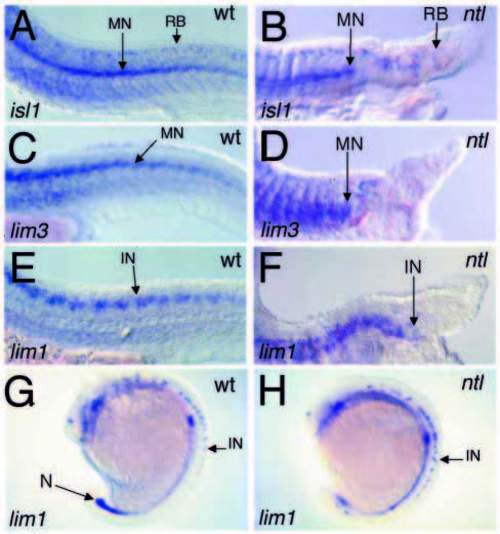 Fig. 6 Absence of ventral motorneurons and presence of dorsal RB neurons in caudal segments of ntl mutants. The isl1- and lim3- expressing motorneurons are absent in caudal regions of ntl mutants, whereas the isl1-expressing RB neurons are present (A-D). Arrows mark the posterior extents of the expression domains. In caudal regions of ntl mutants, lim1-expressing interneurons (E,F) extend further posteriorly than the motorneurons (B,D), but do not extend as far posteriorly as the RB neurons (B). The lim1-expressing interneurons appear normal in rostral ntl segments, where shh expression is expanded in the floor plate (G,H). Anterior is to the left in A-F, dorsal to the top. Anterior is to the top in G,H, dorsal to the right.
Antibody Labeling Details
No data available
Acknowledgments:
ZFIN wishes to thank the journal Development (Cambridge, England) for permission to reproduce figures from this article. Please note that this material may be protected by copyright.