ZFIN ID: ZDB-FIG-140319-64
Nguyen et al., 2000
- Dorsal and intermediate neuronal cell types of the spinal cord are established by a BMP signaling pathway. Development (Cambridge, England) 127(6):1209-1220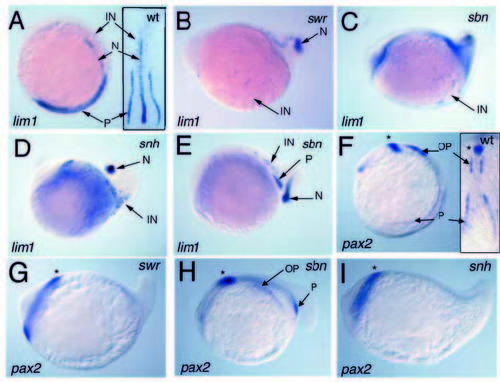 Fig. 2 Expansion of lim1+ interneurons and loss of pronephric precursors in swr/bmp2b, sbn/smad5 and snh/bmp7 mutants. Lateral views with anterior to the top, dorsal to the right in A,F, and anterior to the left and dorsal to the top in B-E,G-I. lim1 expression in 7- somite wild-type (A), swr/bmp2b (B), sbn/smad5 (C, E) and snh/bmp7 (D) mutant embryos. Note the expansion of the interneuron domain in B-D. The insets in A and F are flattened whole-mount embryos. Note the small remnant of the lim1 pronephric domain observed in a sbn/smad5 embryo (E). Expression of pax2.1 in wild-type (F), swr/bmp2b (G), sbn/smad5 (H) and snh/bmp7 (I) embryos. Note the absence of the pax2.1 pronephric domain in swr and snh mutants and the remnant of pronephric expression in the sbn mutant. The otic placode domain is also absent in the swr and snh mutant, but is slightly laterally positioned in the sbn mutant compared to wild-type. * indicates the midbrain-hindbrain boundary domain; IN, interneurons; N, notochord; OP, otic placode; P, pronephric domain.
Antibody Labeling Details
No data available
Acknowledgments:
ZFIN wishes to thank the journal Development (Cambridge, England) for permission to reproduce figures from this article. Please note that this material may be protected by copyright.