ZFIN ID: ZDB-FIG-131213-13
Your Input Welcome
Thank you for submitting comments. Your input has been emailed to ZFIN curators who may contact you if additional information is required.
Oops. Something went wrong. Please try again later.
Geng et al., 2013
- Semicircular canal morphogenesis in the zebrafish inner ear requires the function of gpr126 (lauscher), an adhesion class G protein-coupled receptor gene. Development (Cambridge, England) 40(21):4362-4374
Full text @ Development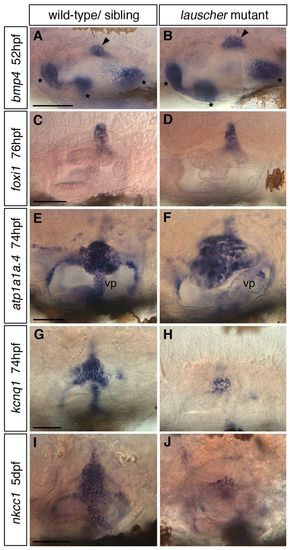 Fig. 3 Expression of genes involved in endolymph homeostasis in the lau mutant ear. (A-D) The endolymphatic duct, marked by expression of bmp4 (arrowheads, A,B) and foxi1 (C,D), appears to develop normally in lau mutants. The three cristae also express bmp4 normally (asterisks, A,B). (E-J) Expression of ion transporter genes in the lau mutant ear. (E,F) Expression of the atp1a1a.4 subunit of Na+/K+-ATPase1 is more diffuse and lacking from the ventral pillar (vp). (G-J) There is a substantial reduction in both kcnq1 and nkcc1 expression. Abbreviation: vp, ventral pillar (E) or ventral projection (F). Alleles: B,D,H,J, tk256a; F, tb233c. Scale bars: 50 μm.
Antibody Labeling Details
No data available
Phenotype Details
No data available
Acknowledgments:
ZFIN wishes to thank the journal Development (Cambridge, England) for permission to reproduce figures from this article. Please note that this material may be protected by copyright. Full text @ Development