ZFIN ID: ZDB-FIG-100706-23
Takada et al., 2010
- Identification of genes expressed by zebrafish oligodendrocytes using a differential microarray screen. Developmental dynamics : an official publication of the American Association of Anatomists 239(7):2041-2047
Full text @ Dev. Dyn.
EXPRESSION / LABELING:
| | |
| --- | --- |
| Genes: | |
| Fish: | |
| Anatomical Terms: | |
| Stage: | Day 4 |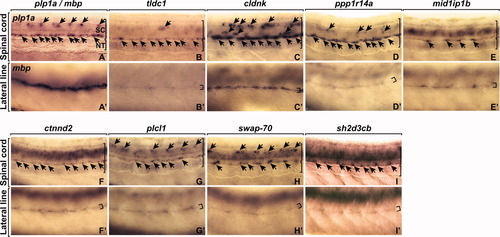 Fig. 3 RNA expression patterns of genes in spinal cord and lateral line at 4 dpf. plpa1 and mbp expression marks differentiated oligodendrocytes and Schwann cells. A-I′: Panels show lateral views of spinal cord (A-I) and lateral line (A′-I′). Arrows in A-I indicate expression in oligodendrocytes. Small brackets in A′-I′ indicate lateral line nerve. SC, spinal cord; NT, notochord.
Antibody Labeling Details
No data available
Phenotype Details
No data available
Acknowledgments:
ZFIN wishes to thank the journal Developmental dynamics : an official publication of the American Association of Anatomists for permission to reproduce figures from this article. Please note that this material may be protected by copyright. Full text @ Dev. Dyn.