ZFIN ID: ZDB-FIG-060726-9
Brand et al., 1996
- Mutations in zebrafish genes affecting the formation of the boundary between midbrain and hindbrain. Development (Cambridge, England) 123:179-190
EXPRESSION / LABELING:
| | |
| --- | --- |
| Genes: | |
| Antibody: | |
| Fish: | |
| Anatomical Terms: | |
| Stage: | Prim-5 |
PHENOTYPE:
| | |
| --- | --- |
| Fish: | |
| Observed In: | |
| Stage: | Prim-5 |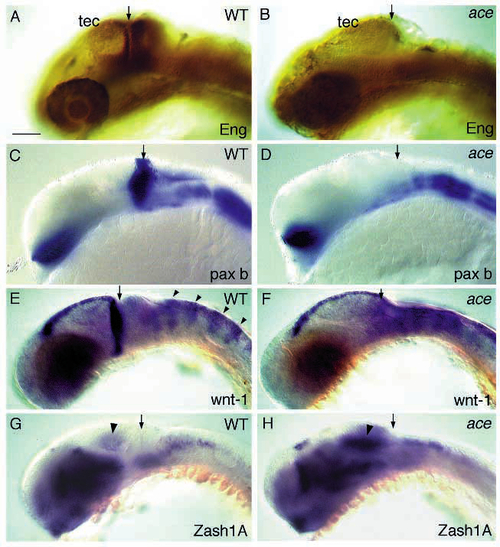 Fig. 8 Expression of MHB markers is affected in ace embryos. Shown are lateral views of wild-type (left) and ace mutant (right) embryos. Arrows point to the posterior border of the tectum. (A,B) eng protein (dark brown staining around the MHB) is not detected in the tectum, tegmentum and cerebellum of 28 h ace mutant embryos. (C,D) pax-b expression is missing in the posterior midbrain of 24 h ace mutant embryos, but is unaffected elsewhere. (E,F) wnt1 expression is not found in the posterior tectum of 26 h ace mutant embryos. Notice the extension of the wnt1 stripe in the dorsal tectum to more posterior levels. Expression in the rhombomeres (arrowheads) is not affected. (G,H) Expression of Zash1A in the tectal ventricular zone (arrowhead) is strongly increased in the mutant embryo compared to its sibling at 26 h. Stainings of the embryos in G and H were done in the same vial. Scale bar, 90 µm.
Antibody Labeling Details
Acknowledgments:
ZFIN wishes to thank the journal Development (Cambridge, England) for permission to reproduce figures from this article. Please note that this material may be protected by copyright.