ZFIN ID: ZDB-FIG-060726-6
Your Input Welcome
Thank you for submitting comments. Your input has been emailed to ZFIN curators who may contact you if additional information is required.
Oops. Something went wrong. Please try again later.
Brand et al., 1996
- Mutations in zebrafish genes affecting the formation of the boundary between midbrain and hindbrain. Development (Cambridge, England) 123:179-190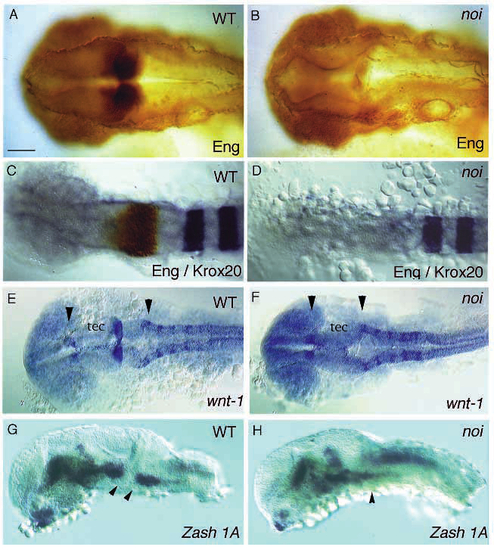 Fig. 4 Expression of markers of the MHB in noi. Shown are dorsal (A-F) and lateral (G,H) views of wild type and noith44 mutant embryos, stained with markers of the MHB as indicated. (A,B) mAb4D9 staining for eng proteins at 28 h. Staining is eliminated in the MHB of mutant embryos. (C,D) Doubly stained embryos at the 8-somite stage, for krx20 RNA in blue and eng proteins in brown. No eng proteins are detected in the primordium of the MHB of mutant embryos. (E,F) Expression of wnt1 at the 20-somite stage posterior to the tectum (tec) is eliminated in noi, as is the posteriorly adjoining cerebellar fold. Notice the reduced distance between the wnt1-expressing domains in the dorsal forebrain and the first rhombomere (arrowheads). (G,H) zash1A staining at 26 h. A gap of staining (arrowheads) is observed at the MHB between the tegmental and rhombomeric expression domains, which is absent in the mutant embryo. Scale bar, 75 mm (A,B,G,H); 100 µm (C,D); 120 µm (E,F).
Antibody Labeling Details
Acknowledgments:
ZFIN wishes to thank the journal Development (Cambridge, England) for permission to reproduce figures from this article. Please note that this material may be protected by copyright.