ZFIN ID: ZDB-FIG-050607-10
EXPRESSION / LABELING:
| | |
| --- | --- |
| Genes: | |
| Fish: | |
| Knockdown Reagents: | |
| Anatomical Terms: | |
| Stage: | Prim-5 |
PHENOTYPE:
| | |
| --- | --- |
| Fish: | |
| Knockdown Reagents: | |
| Observed In: | |
| Stage: | Prim-5 |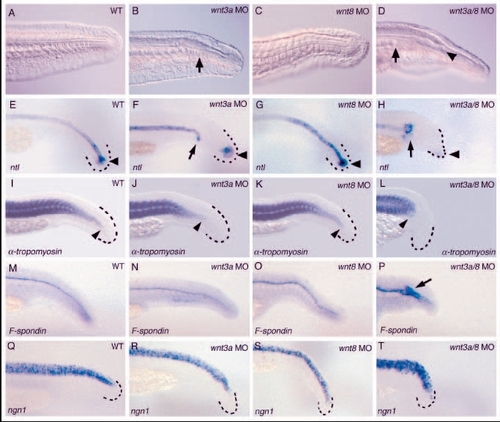 Fig. 4 wnt3a and wnt3a/wnt8 morphants lack mesodermal fates at the expense of floor plate in the caudal tail. All embryos were examined at approximately 27-28 hpf. More mildly affected wnt3a/wnt8 morphants that made some tail structures were selected for these analyses. (A-D) Tails of living 28 hpf embryos, anterior to the left. Arrows in B and D indicate premature termination of the notochord in wnt3a and wnt3a/wnt8 morphants, respectively, and the arrowhead in D marks enlarged neural tube lumen. (E-P) Embryos were fixed at 26 hpf and stained with the indicated marker. The caudal tip of the tail is outlined in black dashes for clarity where necessary. (E-H) Embryos stained with ntl to visualize the notochord, arrowheads indicate ntl expression in the tailbud; arrows in F and H indicate the tip of the truncated notochord. (I-L) α-tropomyosin staining to visualize the somites; arrowheads mark the posterior extent of somite formation. (M-P) Embryos stained for F-spondin to visualize the floor plate; arrow in P indicates the expanded floor plate in wnt3a/wnt8 embryos. (Q-T) Pan-neural ngn1 expression in the neural tube is unaffected by wnt3a and wnt8 inhibition.
Antibody Labeling Details
No data available
Acknowledgments:
This image is the copyrighted work of the attributed author or publisher, and ZFIN has permission only to display this image to its users. Additional permissions should be obtained from the applicable author or publisher of the image. Full text @ Development