ZFIN ID: ZDB-FIG-050607-7
EXPRESSION / LABELING:
| | |
| --- | --- |
| Gene: | |
| Fish: | |
| Knockdown Reagents: | |
| Anatomical Term: | |
| Stage: | 10-13 somites |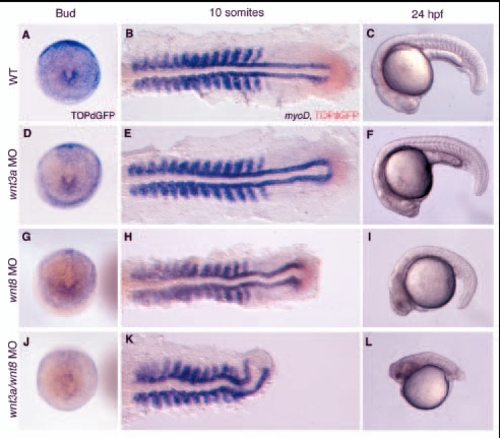 Fig. 1 wnt3a and wnt8 coordinately regulate tail development. (A-C) Wild-type development. (D-L) Embryos from a transgenic TOPdGFP line were injected with wnt3a MOs (D,E,F), wnt8 MOs (G,H,I) or both (J,K,L). Expression of the ß-catenin-responsive reporter was examined at bud stage by in situ hybridization with a probe for GFP (A,D,G,J). Embryos are shown in a dorsal view of the tailbud, with anterior to the top. At the 10-somite stage (B,E,H,K), TOPdGFP expression was again assessed by in situ hybridization, in this case with a Fast Red color reaction. myoD expression, to visualize the defect in tail development, is in blue. Embryos are flat mounted and shown in a dorsal view with anterior to the left. At 24 hpf (C,F,I,L), living embryos of each type are shown in a lateral view, anterior to the left.
Antibody Labeling Details
No data available
Phenotype Details
| Fish | Conditions | Stage | Phenotype |
| --- | --- | --- | --- |
| AB + MO1-wnt3a | standard conditions | 10-13 somites | tail bud decreased length, abnormal |
| | | Long-pec | post-anal tail morphogenesis disrupted, abnormal |
| | | Long-pec | post-vent region decreased length, abnormal |
| | | Long-pec | whole organism decreased length, abnormal |
| AB + MO1-wnt3a + MO1-wnt8a + MO2-wnt8a | standard conditions | 10-13 somites | tail bud decreased length, abnormal |
| | | Prim-5 | post-anal tail morphogenesis disrupted, abnormal |
| | | Prim-5 | post-vent region decreased length, abnormal |
| | | Prim-5 | whole organism decreased length, abnormal |
| AB + MO1-wnt8a + MO2-wnt8a | standard conditions | 10-13 somites | tail bud decreased length, abnormal |
| | | Prim-5 | post-anal tail morphogenesis disrupted, abnormal |
| | | Prim-5 | post-vent region decreased length, abnormal |
| | | Prim-5 | whole organism decreased length, abnormal |
Acknowledgments:
This image is the copyrighted work of the attributed author or publisher, and ZFIN has permission only to display this image to its users. Additional permissions should be obtained from the applicable author or publisher of the image. Full text @ Development