ZFIN ID: ZDB-FIG-200921-4
EXPRESSION / LABELING:
Genes:
Antibody:
Fish:
Knockdown Reagent:
Anatomical Terms:
Stage Range:

Long-pec

to

Day 5
PHENOTYPE:
Fish:
Knockdown Reagent:
Observed In:
Stage Range:

Long-pec

to

Day 5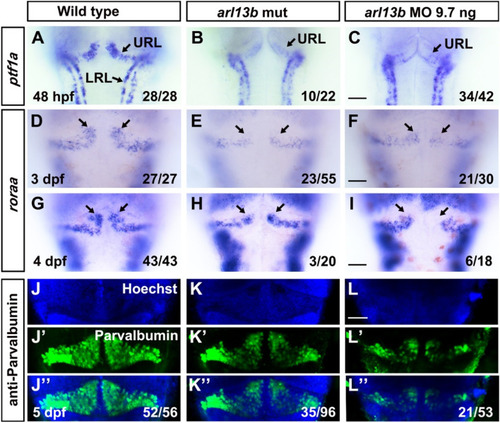 Fig. 4
Disruption of arl13b reduces both precursor and differentiated cerebellar Purkinje cells. A–I Representative images of in situ hybridization using anti-sense probes against ptf1a and roraa to label Purkinje precursors and differentiated cells, respectively. The dorsomedial clusters of precursor of Purkinje cells and differentiated Purkinje neurons are selectively reduced (arrows). J–L'' Immunostaining of mature Purkinje neurons using anti-parvalbumin antibody reveals that the dorsomedial Purkinje neurons are reduced in arl13b-deficient embryos. A–I, Scale bar 100 μm. J–L'' Scale bar 50 μm.
Antibody Labeling Details
Acknowledgments:
ZFIN wishes to thank the journal Neuroscience Bulletin for permission to reproduce figures from this article. Please note that this material may be protected by copyright. Full text @ Neurosci. Bull.