ZFIN ID: ZDB-FIG-190329-4
EXPRESSION / LABELING:
Antibodies:
Fish:
Knockdown Reagent:
Anatomical Terms:
Stage Range:

64-cell

to

Sphere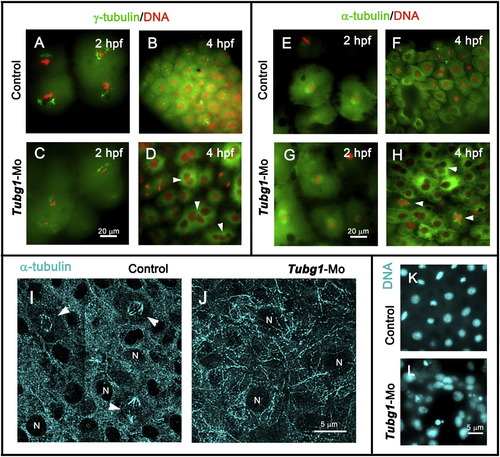 Fig. 4
Nuclear and microtubule organization defects in γ-tubulin morphant embryos. A–D. Fluorescence microscopy images of control and morphant embryos at 2 (A and C) and 4 (B and D) hpf, showing centrosomal (γ-tubulin, green) and chromosomal (DAPI, red) distribution. E–H. anti-α-tubulin antibodies (green) and DAPI (red) double-stained embryos at 2 (E and G) and 4 (F and H) hpf. In the morphant embryos, γ-tubulin and microtubule organizations were severely affected and γ-TuSC formation impairment generated multinucleated blastomeres (arrowheads in D and H). I, J. Confocal projection images of α-tubulin-immunofluorescence staining of blastoderm in 8 hpf control and morphant embryos. Microtubule-stained spindle structures (arrowheads in I) and bundle organizations are shown. N, nucleus. K, L. DAPI-stained nuclei of control and tubg1-Mo embryos show a severe karyokinesis defect after γ-tubulin silencing.
Gene Expression Details
No data available
Antibody Labeling Details
Acknowledgments:
ZFIN wishes to thank the journal Mechanisms of Development for permission to reproduce figures from this article. Please note that this material may be protected by copyright.

Reprinted from Mechanisms of Development, 154, Pouchucq, L., Undurraga, C.A., Fuentes, R., Cornejo, M., Allende, M.L., Monasterio, O., γ-Tubulin small complex formation is essential for early zebrafish embryogenesis, 145-152, Copyright (2018) with permission from Elsevier. Full text @ Mech. Dev.