ZFIN ID: ZDB-FIG-161229-14
EXPRESSION / LABELING:
| | |
| --- | --- |
| Genes: | |
| Fish: | |
| Anatomical Term: | |
| Stage: | Prim-15 |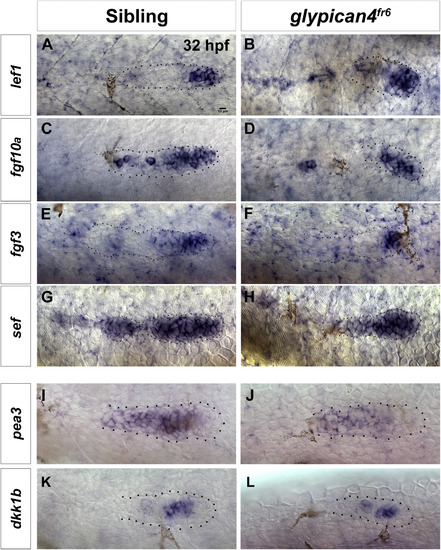 Fig. 2
Wnt/β-catenin target genes are not affected but some Fgf target genes are slightly reduced in glypican4fr6 mutants. Expression of the Wnt/β-catenin target genes lef1 (A-B), fgf10a (C-D), fgf3 (E-F), sef (G-H), and the Fgf target pea3 (I-J) and dkk1b (K-L) in 32 hpf sibling embryos and glypican4fr6 mutants respectively. pea3 is reduced, whereas dkk1b is normal.
Antibody Labeling Details
No data available
Acknowledgments:
ZFIN wishes to thank the journal Developmental Biology for permission to reproduce figures from this article. Please note that this material may be protected by copyright.

Reprinted from Developmental Biology, 419(2), Venero Galanternik M., Lush, M.E., Piotrowski, T., Glypican4 Modulates Lateral Line Collective Cell Migration Non Cell-Autonomously, 321-335, Copyright (2016) with permission from Elsevier. Full text @ Dev. Biol.