ZFIN ID: ZDB-FIG-161212-8
EXPRESSION / LABELING:
Genes:
Antibodies:
Fish:
Condition:
Knockdown Reagents:
Anatomical Terms:
Stage Range:

Protruding-mouth

to

Day 4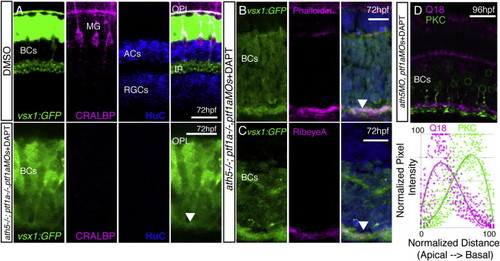 Fig. 5
BC Axons Can Form a Sublaminated Neuropil in the Absence of Partner Neurons and Glia
(A–C) A neuropil layer (arrowhead) forms at the basal surface of a cellularly simplified retina ath5−/−;ptf1a−/−;ptf1aMOs treated with DAPT, lacking ACs, HCs, RGCs, and MG (A). The neuropil layer is actin rich (B) and contains RibeyeA positive staining at 72 hpf (C).
(D) Gross sublaminar structure is maintained in cellularly simplified retinas, with Q19 apical to the PKC staining in the IPL-like layer. This sublamination was statistically significant (p = 6.22 × 10−44, n = 3 sections). Scale bars, 10 μm (A, D, and E) and 20 μm (B, C, F, G, H, and I).
Antibody Labeling Details
Acknowledgments:
ZFIN wishes to thank the journal Cell Reports for permission to reproduce figures from this article. Please note that this material may be protected by copyright. Full text @ Cell Rep.