ZFIN ID: ZDB-FIG-150511-19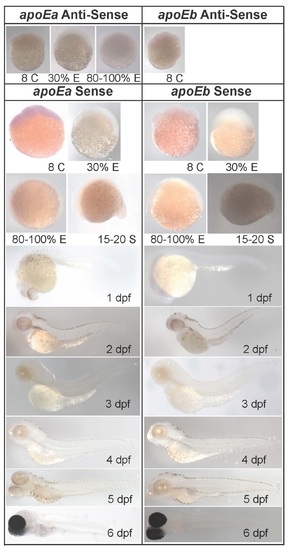 Fig. S4
apoEa has no or low expression in 8-cell (C), 30% epiboly (E), or 80% E larvae; apoEb mRNA is not present in 8-C embryos. Sense probes show no staining at any stage (S: somite). In situ hybridization (ISH) was performed in wild type and nacre-/- zebrafish. Larvae from 2 to 6 days post-fertilization (dpf) were treated with hydrogen peroxide. ISH was performed in triplicate; n ≥ 5 larvae for each experiment.
Antibody Labeling Details
No data available
Phenotype Details
No data available
Acknowledgments:
ZFIN wishes to thank the journal Disease models & mechanisms for permission to reproduce figures from this article. Please note that this material may be protected by copyright. Full text @ Dis. Model. Mech.