ZFIN ID: ZDB-FIG-140317-34
Barth et al., 1999
- Bmp activity establishes a gradient of positional information throughout the entire neural plate. Development (Cambridge, England) 126(22):4977-4987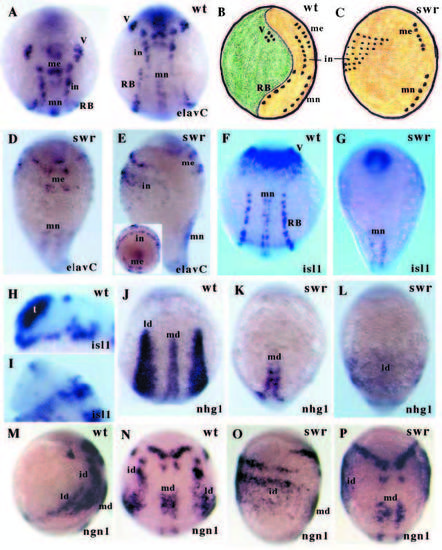 Fig. 3 Swirl/Bmp2b affects neurogenesis throughout the neural plate. All embryos are 1-2 somite stage (except H,I which are 14 somite stage). (A) Animal pole (left) and dorsal (right) views of elavC expression in neurons in the neural plate of wildtype embryos. (B,C) Schematic illustrations of lateral views of neuronal patterning in wild-type and swr- embryos. Green is non-neural ectoderm, yellow is the neural plate and the dots represent neurons. In swr- embryos, trigeminal and Rohon-Beard neurons are absent while interneurons are massively radially expanded on the ventral side of the embryo. (D) Dorsal and (E) lateral views of elavC expression in swr- embryos. The interneuron population is hugely expanded. The inset shows an animal pole view of the same embryo. (F,G) Dorsal views of isl1 expression in wild-type and swr- embryos. The Rohon-Beard and trigeminal neurons are absent in the swr- mutant. (H,I) isl1 expression in wild-type and swr- embryos. Neurogenesis is considerably reduced in the anteriormost CNS of the swr- embryo as compared to wild type. (J,K) Dorsal and (L) ventral views of nhg1 expression in the ectoderm of wild-type and swr- embryos. The lateral stripes of nhg1 expression are either absent (K) or are expanded and fused on the ventral side in swr- embryos (L). (M,O) Lateral and (N,P) dorsal views of ngn1 in wild-type and swr- embryos. In the swr- embryo, lateral domains of expression are lost, intermediate domains hugely expanded and expression in the vicinity of motorneurons is also slightly broader. in, interneurons; id, intermediate domain; ld, lateral domain; me, medial neurons; md, medial domain; mn, motor neurons; RB, Rohon- Beard neurons; V, trigeminal neurons.
Antibody Labeling Details
No data available
Acknowledgments:
ZFIN wishes to thank the journal Development (Cambridge, England) for permission to reproduce figures from this article. Please note that this material may be protected by copyright.