ZFIN ID: ZDB-FIG-140317-35
Barth et al., 1999
- Bmp activity establishes a gradient of positional information throughout the entire neural plate. Development (Cambridge, England) 126(22):4977-4987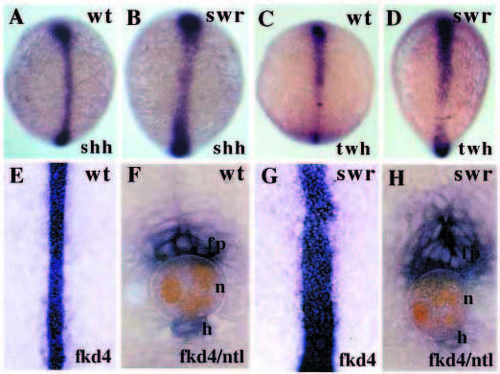 Fig. 4 Floorplate tissue is expanded in swr- embryos. (A-D) Dorsal views of shh (A,B, 1-2 somite stage) and twh (C,D, 3 somite stage) expression in axial tissue. shh is expressed in ectodermal and mesodermal tissue whereas by the 3 somite stage, twh is limited to ectodermal tissue (Ekker et al., 1995). The expression of both genes is slightly expanded in swr- embryos. (E-H) Whole-mount views and transverse sections of fkd4 expression in floorplate and hypochord and Ntl (Schulte-Merker et al., 1994) expression in the notochord in 15 somite stage embryos. Floorplate fkd4 expression is expanded in the swr- mutants. fp, floorplate; h, hypochord; n, notochord.
Antibody Labeling Details
No data available
Phenotype Details
No data available
Acknowledgments:
ZFIN wishes to thank the journal Development (Cambridge, England) for permission to reproduce figures from this article. Please note that this material may be protected by copyright.