ZFIN ID: ZDB-FIG-130907-16
EXPRESSION / LABELING:
| | |
| --- | --- |
| Genes: | |
| Fish: | |
| Knockdown Reagent: | |
| Anatomical Terms: | |
| Stage: | Prim-25 |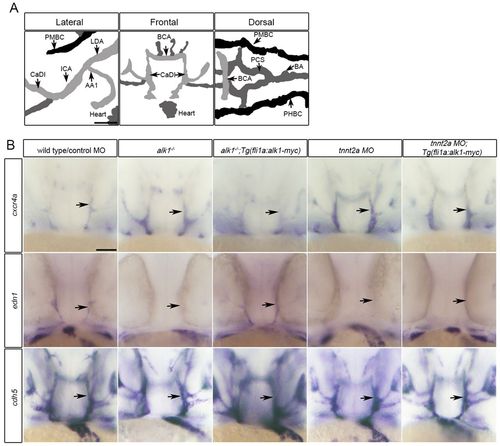 Fig. 1
Restoration of alk1 expression does not rescue cxcr4a or edn1 expression in the absence of blood flow. (A) Lateral (anterior left), frontal (anterior upwards) and dorsal (anterior left) views of the zebrafish cranial vasculature at 36 hpf. alk1-positive arteries are light gray, alk1-negative arteries are dark gray and veins are black. alk1-positive arteries are closest to the heart. AA1, aortic arch 1; BA, basilar artery; BCA, basal communicating artery; CaDI, caudal division of the internal carotid artery; ICA, internal carotid artery; LDA, lateral dorsal aorta; PCS, posterior communicating segments; PHBC, primordial hindbrain channel; PMBC, primordial midbrain channel. Scale bar: 50 μm. (B) Whole-mount in situ hybridization for cxcr4a, edn1 and cadherin 5 (cdh5, pan-endothelial control) at 36 hpf. cxcr4a and edn1 are upregulated and downregulated, respectively, in alk1 mutants (column 2) and tnnt2a morphants (column 4) compared with controls (column 1), and expression can be normalized to wild-type/control morphant levels by transgene-mediated, flow-independent alk1 expression in alk1 mutants (column 3) but not in tnnt2a morphants (column 5). cdh5 expression is not altered by alk1 or flow conditions. ne50 for all groups. Frontal views, dorsal upwards. Arrows indicate left CaDI. Scale bar: 50 μm.
Antibody Labeling Details
No data available
Phenotype Details
No data available
Acknowledgments:
ZFIN wishes to thank the journal Development (Cambridge, England) for permission to reproduce figures from this article. Please note that this material may be protected by copyright. Full text @ Development