ZFIN ID: ZDB-FIG-130907-24
Your Input Welcome
Thank you for submitting comments. Your input has been emailed to ZFIN curators who may contact you if additional information is required.
Oops. Something went wrong. Please try again later.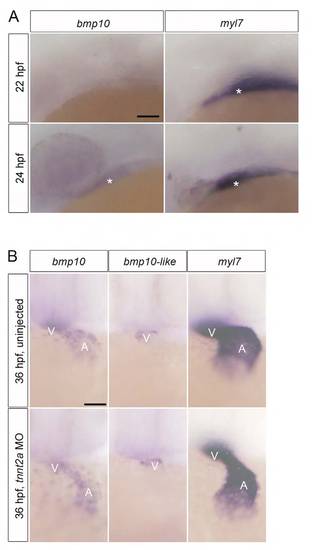 Fig. S4
Expression of bmp10 and bmp10-like mRNA does not depend on heartbeat. (A) bmp10 is not expressed at 22 hpf but is faintly expressed in the heart at 24 hpf. Lateral views, anterior leftwards. Scale bar: 100 μm. Asterisk indicates developing heart. (B) bmp10 and bmp10-like expression in control and tnnt2a morphants, which lack heartbeat. Images are representative of n=60 embryos per group. A, atrium; V, ventricle. Ventral views, anterior upwards. Scale bar: 50 μm. myl7 is shown as a pan-myocardial control.
Antibody Labeling Details
No data available
Phenotype Details
No data available
Acknowledgments:
ZFIN wishes to thank the journal Development (Cambridge, England) for permission to reproduce figures from this article. Please note that this material may be protected by copyright. Full text @ Development