ZFIN ID: ZDB-FIG-130128-6
EXPRESSION / LABELING:
| | |
| --- | --- |
| Gene: | |
| Fish: | |
| Knockdown Reagent: | |
| Anatomical Terms: | |
| Stage: | Long-pec |
PHENOTYPE:
Fish:
Knockdown Reagent:
Observed In:
Stage Range:

Long-pec

to

Day 5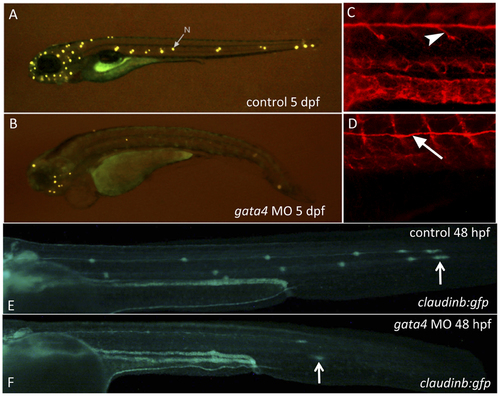 Fig. 6 The gata4 morphants fail to develop neuromasts of the lateral line due to a failure in neuromast deposition.
A–D: Shown are representative control (A) and gata4 morphant (B) embryos (n >50) that were stained at 5 dpf with 4-Di-2-Asp to detect differentiated neuromasts (the arrow in panel A points to a representative neuromast, N). Control (C) or morphant (D) embryos were stained with an anti-acetylated tubulin antibody to detect the neurons that migrate along with the primordium and innervate the neuromasts (arrowhead in C). While neurons fail to branch off in the morphants, the neuron tracks along the route of the primordium normally (arrow points to this neuron track in D). E–F: Shown are representative control (upper panel) and gata4 morphant (lower panel) embryos at 48 hpf (n >50) derived from the transgenic claudinb:gfp reporter line, which labels the primordium and the deposited neuromasts. Specific patches of deposited cells are present at bilateral positions along the lateral line in control embryos (white arrow in E indicates the leading edge of the migrating primordium on the left side of a control embryo). In morphant embryos the primordium always migrates, and often along the normal route of the lateral line. However, in morphant embryos the migration is delayed (the arrow in F indicates the "lagging" leading edge in a representative morphant embryo), and in some morphant embryos the route was abnormal (not shown). Views are lateral, anterior to the left.
Antibody Labeling Details
No data available
Acknowledgments:
ZFIN wishes to thank the journal PLoS One for permission to reproduce figures from this article. Please note that this material may be protected by copyright. Full text @ PLoS One