ZFIN ID: ZDB-FIG-130109-11
Ichimura et al., 2012
- Structural disorganization of pronephric glomerulus in zebrafish mpp5a/nagie oko mutant. Developmental dynamics : an official publication of the American Association of Anatomists 241(12):1922-1932
Full text @ Dev. Dyn.
PHENOTYPE:
| | |
| --- | --- |
| Fish: | |
| Knockdown Reagent: | |
| Observed In: | |
| Stage: | Day 4 |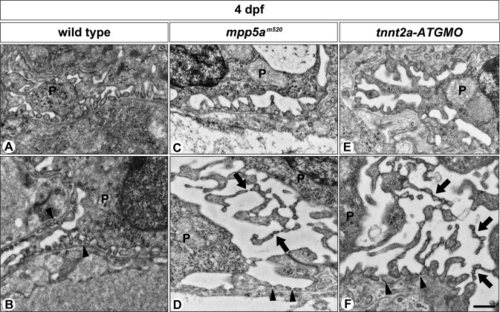 Fig. 6 Podocyte foot processes are formed in mpp5am520 mutants and tnnt2a-ATG morphants. A, B: In wild-type siblings, foot processes with SD are vigorously formed by 4 dpf. In 4-dpf mpp5am520 mutants (C, D) and tnnt2a-ATG morphants (E, F) podocytes form regular foot processes with SD by 4 dpf as observed in the wild-type siblings. In most podocytes, multiple microvillus-like processes have protruded from the apical surface of the cell body and extend into the Bowman′s space (arrows in D, F). In addition, they form regular foot processes adhering to the GBM (arrowheads in B, D, F). These microvillus-like processes are connected to each other by SD-like structures. P, podocyte. Scale bar = 500 nm.
Gene Expression Details
No data available
Antibody Labeling Details
No data available
Acknowledgments:
ZFIN wishes to thank the journal Developmental dynamics : an official publication of the American Association of Anatomists for permission to reproduce figures from this article. Please note that this material may be protected by copyright. Full text @ Dev. Dyn.