ZFIN ID: ZDB-FIG-111215-27
PHENOTYPE:
| | |
| --- | --- |
| Fish: | |
| Observed In: | |
| Stage: | Day 5 |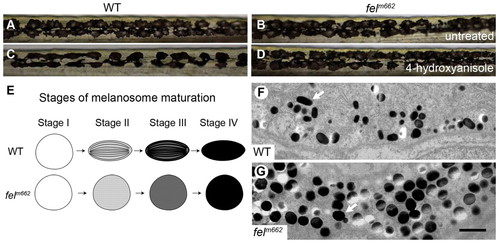 Fig. 4 Melanophore development is disrupted in feelgood mutants. (A–D) Live image of melanophores in the trunk of 6-dpf wild-type (WT) and feelgood mutants in untreated (A,B) and 0.5 μg/ml 4-hydroxyanisole treated (C,D) embryos. (E) Summary drawing of the stages of melanosome maturation comparing normal and feelgood melanocytes. (F,G) TEM images of 5-dpf melanosomes. Arrows point to a mature melanosome in WT (F), and a round, dark, stage IV melanosome in feelgood (G). Scale bar: 1 μm.
Gene Expression Details
No data available
Antibody Labeling Details
No data available
Acknowledgments:
ZFIN wishes to thank the journal Disease models & mechanisms for permission to reproduce figures from this article. Please note that this material may be protected by copyright. Full text @ Dis. Model. Mech.