ZFIN ID: ZDB-FIG-100603-2
EXPRESSION / LABELING:
| | |
| --- | --- |
| Genes: | |
| Fish: | |
| Condition: | |
| Knockdown Reagent: | |
| Anatomical Terms: | |
| Stage: | Prim-25 |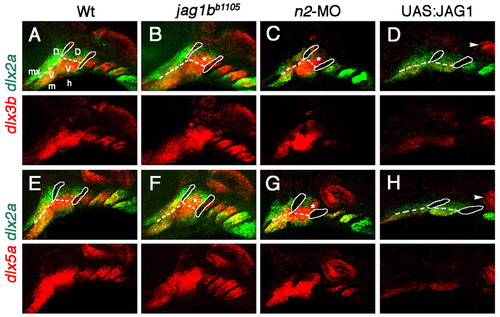 Fig. 2 Jag1b-Notch2 signaling inhibits dlx3b and dlx5a expression in the pharyngeal arches. (A-H) Double-fluorescence in situ hybridizations showing the expression of dlx3b or dlx5a (red) and dlx2a (green) at 36 hpf. Compared with wild types (A,E), dlx3b and dlx5a expression is expanded into the dorsal hyoid arches (asterisks) of jag1bb1105 (B,F) and notch2-MO (C,G) zebrafish embryos and is reduced in the ventral arches of 20-28 hpf heat shock-treated hsp70I:Gal4; UAS:JAG1 (D,H) embryos. The expression of dlx3b and dlx5a in otic placodes (arrowheads) is unaffected in UAS:JAG1 embryos. Endodermal pouches (solid lines) and DV arch boundaries (dashed lines) are indicated in the merged images. The maxillary domain (mx) and the dorsal (D) and ventral (V) domains of the mandibular (m) and hyoid (h) arches are indicated for wild type.
Antibody Labeling Details
No data available
Phenotype Details
No data available
Acknowledgments:
ZFIN wishes to thank the journal Development (Cambridge, England) for permission to reproduce figures from this article. Please note that this material may be protected by copyright. Full text @ Development