ZFIN ID: ZDB-FIG-071228-29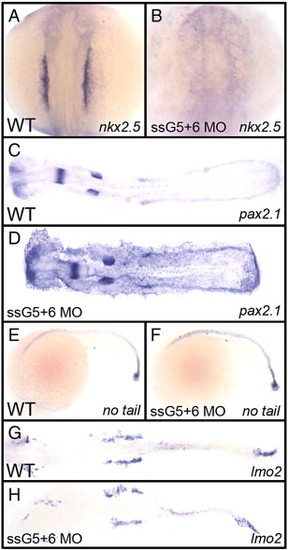 Fig. 6 The defect in gata5+6 morphants is specific to cardiac mesoderm. Shown in each panel is a typical representative embryo following processing by whole mount in situ hybridization. Embryos were either wild-type (A, C, E, G) or gata5(ssG5)+6 double morphants (B, D, F, H). (A, B) The cardiomyocyte progenitor marker nkx2.5 at the 12-somite stage shows the lack of cardiac progenitors in gata5+6 morphants. (C, D) The pronephric marker pax2.1 shows that the intermediate mesoderm was not affected in morphants. (E, F) The axial mesoderm marker no tail shows that gata5+6 morphants develop a normal notochord. (G, H) The lateral plate mesoderm, marked by the lmo2 probe, is also not altered in gata5+6 morphants. (A and B) views are dorsal, with anterior to the top. (C, D, G, and H) embryos were flat mounted, views are dorsal, with anterior to the left. (E and F) Views are from the left side, with anterior to the left. These panels represent patterns seen in A: 39/39; B: 38/38; C: 10/10; D: 23/23; E: 26/26; F: 45/45; G: 28/28; H: 42/42.
Antibody Labeling Details
No data available
Phenotype Details
No data available
Acknowledgments:
ZFIN wishes to thank the journal Developmental Biology for permission to reproduce figures from this article. Please note that this material may be protected by copyright.

Reprinted from Developmental Biology, 312(2), Holtzinger, A., and Evans, T., Gata5 and Gata6 are functionally redundant in zebrafish for specification of cardiomyocytes, 613-622, Copyright (2007) with permission from Elsevier. Full text @ Dev. Biol.