ZFIN ID: ZDB-FIG-191010-4
PHENOTYPE:
| | |
| --- | --- |
| Fish: | |
| Observed In: | |
| Stage: | Day 5 |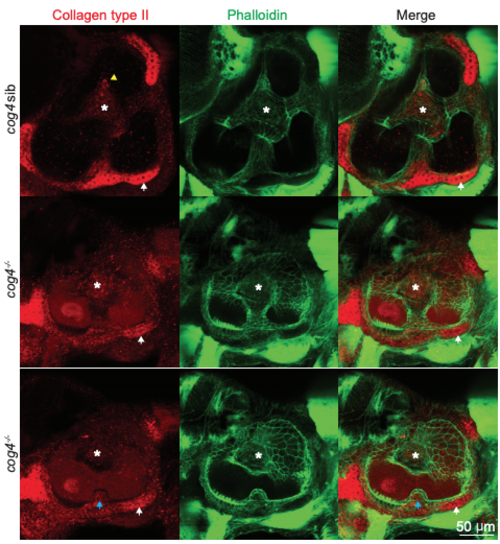 Fig. S5
Collagen type II is present in the semicircular canal tissues of cog4−/− mutants. Co-labeling of Collagen type II (red) and phalloidin (green) in cog4 sibling (A; n = 22 larvae) and cog4−/− mutant larvae (B, C; n = 23 larvae). White stars indicate the pillars (A–C). White arrowheads point to the otic capsule (A–C). Blue arrowheads points to a delayed ventral projection (C). Anterior to the left and dorsal to the top. 5 dpf.
Gene Expression Details
No data available
Antibody Labeling Details
No data available
Acknowledgments:
ZFIN wishes to thank the journal Mechanisms of Development for permission to reproduce figures from this article. Please note that this material may be protected by copyright.

Reprinted from Mechanisms of Development, 155, Clément, A., Blanco-Sánchez, B., Peirce, J.L., Westerfield, M., Cog4 is required for protrusion and extension of the epithelium in the developing semicircular canals, 1-7, Copyright (2018) with permission from Elsevier. Full text @ Mech. Dev.