ZFIN ID: ZDB-FIG-170808-19
Your Input Welcome
Thank you for submitting comments. Your input has been emailed to ZFIN curators who may contact you if additional information is required.
Oops. Something went wrong. Please try again later.
EXPRESSION / LABELING:
| | |
| --- | --- |
| Gene: | |
| Fish: | |
| Knockdown Reagents: | |
| Anatomical Term: | |
| Stage: | Day 4 |
PHENOTYPE:
Fish:
Knockdown Reagents:
Observed In:
Stage Range:

Prim-5

to

Day 4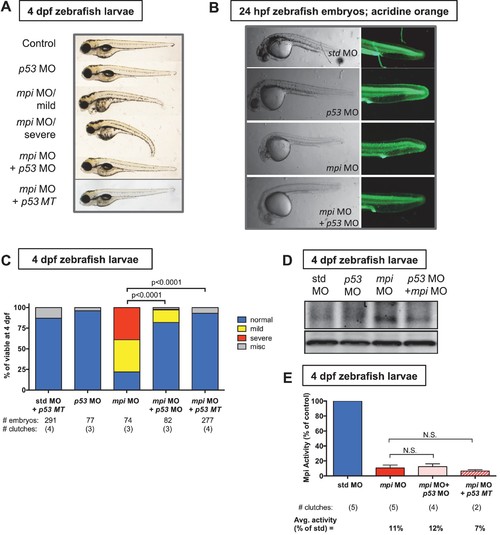 Fig. 3
p53 is downstream of Mpi.
(A) Representative phenotypes of 4 dpf zebrafish larvae following injections of std MO, mpi MO and p53 MO. mpi morphants are characterized by a small head, microphthalmia, pericardial edema, jaw defects and reduced liver size. Examples of normal, mild and severe phenotypes are shown. Co-injection of mpi MO and p53 MO, and injection of mpi MO into p53 MT larvae showed phenotypic rescue of mpi knockdown. (B) The cell death phenotype in mpi morphants, visualized by acridine orange staining, was reversed by co-injection of mpi and p53 morpholino. (C) Quantification of scoring of the phenotypes at 4 dpf, showing that 82% of mpi morphants injected with p53 MO, and 93% of p53 MT injected with mpi MO, were rescued to normal as compared with 22% normal in mpi MO larvae. p-values based on two-tailed Fisher's exact test. (D) Western blot analysis showing that increase in p53 protein expression in mpi morphants was reduced by co-injection with p53 morpholino. Representative image of four separate clutches. (E) Mpi activity was not affected in either p53 MO co-injected embryos or with mpi MO in the p53 MT. p-Value based on two-tailed paired Student's t-test and Bonferroni correction was applied with alpha = 0.025; N.S. represents p-value>0.05.
Antibody Labeling Details
No data available
Phenotype Details
| Fish | Conditions | Stage | Phenotype |
| --- | --- | --- | --- |
| AB + MO1-mpi | standard conditions | Prim-5 | apoptotic process increased occurrence, abnormal |
| | | Day 4 | eye decreased size, abnormal |
| | | Day 4 | head decreased size, abnormal |
| | | Day 4 | liver decreased size, abnormal |
| | | Day 4 | mandibular arch skeleton morphology, abnormal |
| | | Day 4 | pericardium edematous, abnormal |
| | | Day 4 | whole organism decreased life span, abnormal |
| | | Day 4 | whole organism tp53 expression increased amount, abnormal |
| AB + MO1-mpi + MO4-tp53 | standard conditions | Prim-5 | apoptotic process process quality, ameliorated |
| | | Day 4 | eye size, ameliorated |
| | | Day 4 | head size, ameliorated |
| | | Day 4 | liver size, ameliorated |
| | | Day 4 | mandibular arch skeleton morphology, ameliorated |
| | | Day 4 | pericardium edematous, ameliorated |
| | | Day 4 | whole organism tp53 expression amount, ameliorated |
| | | Day 4 | whole organism life span, ameliorated |
| tp53zdf1/zdf1 + MO1-mpi | standard conditions | Day 4 | eye size, ameliorated |
| | | Day 4 | head size, ameliorated |
| | | Day 4 | liver size, ameliorated |
| | | Day 4 | mandibular arch skeleton morphology, ameliorated |
| | | Day 4 | pericardium edematous, ameliorated |
| | | Day 4 | whole organism life span, ameliorated |
Acknowledgments:
ZFIN wishes to thank the journal eLIFE for permission to reproduce figures from this article. Please note that this material may be protected by copyright. Full text @ Elife