ZFIN ID: ZDB-FIG-160525-14
EXPRESSION / LABELING:
| | |
| --- | --- |
| Genes: | |
| Fish: | |
| Knockdown Reagents: | |
| Anatomical Terms: | |
| Stage: | 75%-epiboly |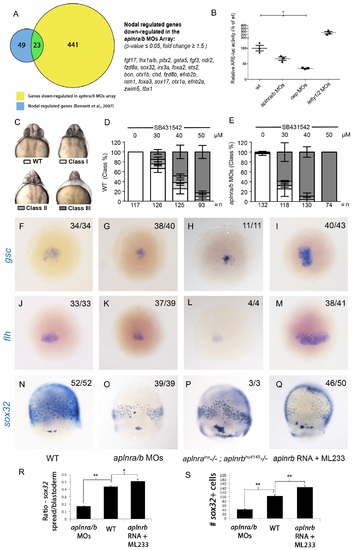 Fig. 2
Aplnr deficient embryos exhibit a reduction in Nodal signaling.
(A) List and Venn diagram of 23 Nodal target genes found to be down-regulated in a microarray of aplnra/b morphant embryos compared to WT at 50% epiboly (5.25 hpf). (B) Relative luciferase activity regulated by the Activin response element (ARE) in WT, aplnra/b morpholino (MO), oep MO and lefty1/2 MO injected embryos at 30% epiboly (4.7 hpf). Data are represented as means ± SEM. *p<0.05 unpaired two-tailed t-test. (C-E) Phenotypic characterization of WT (D) and aplnra/b morphant embryos (E) when treated with the indicated concentration of the Alk4/5/7 inhibitor SB431542 from the sphere stage (4 hpf) onwards. (F-S) Visualization of the expression of the canonical nodal target genes gsc, flh and sox32 in WT (F,J,N), aplnra/b MOs injected (G,K,O), aplnrains; aplnrbhu4145 double mutant (H,L,P) and aplnrb RNA injected treated with the Aplnr agonist ML233 (I,M,Q) embryos at 8 hpf. Embryos are viewed from the dorsal side. Quantification of the number and spread of sox32 expressing cells (R,S). Data are represented as means ± SEM. *p<0.05, **p<0.01 unpaired two-tailed t-test.
Antibody Labeling Details
No data available
Phenotype Details
| Fish | Conditions | Stage | Phenotype |
| --- | --- | --- | --- |
| WT | chemical treatment: SB 431542 | Long-pec | eye fused with eye, abnormal |
| WT + MO1-tdgf1 | standard conditions | 30%-epiboly | nodal signaling pathway decreased occurrence, abnormal |
| WT + MO2-aplnrb + MO7-aplnra | standard conditions | 30%-epiboly | nodal signaling pathway decreased occurrence, abnormal |
| | | 75%-epiboly | axial hypoblast gsc expression decreased amount, abnormal |
| | | 75%-epiboly | axial hypoblast noto expression decreased amount, abnormal |
| | | 75%-epiboly | endodermal cell sox32 expression decreased amount, abnormal |
| | | 75%-epiboly | endodermal cell sox32 expression decreased distribution, abnormal |
| | | 75%-epiboly | endodermal cell decreased amount, abnormal |
| | | 75%-epiboly | nodal signaling pathway decreased occurrence, abnormal |
| WT + MO2-aplnrb + MO7-aplnra | chemical treatment: SB 431542 | Long-pec | eye fused with eye, abnormal |
| WT + MO3-lft1 | standard conditions | 30%-epiboly | nodal signaling pathway increased occurrence, abnormal |
| aplnrbhu4145/hu4145; aplnrazm00177433Tg/zm00177433Tg | standard conditions | 75%-epiboly | axial hypoblast gsc expression decreased amount, abnormal |
| | | 75%-epiboly | axial hypoblast noto expression decreased amount, abnormal |
| | | 75%-epiboly | endodermal cell sox32 expression decreased amount, abnormal |
| | | 75%-epiboly | endodermal cell sox32 expression decreased distribution, abnormal |
| | | 75%-epiboly | endodermal cell decreased amount, abnormal |
| | | 75%-epiboly | nodal signaling pathway decreased occurrence, abnormal |
Acknowledgments:
This image is the copyrighted work of the attributed author or publisher, and ZFIN has permission only to display this image to its users. Additional permissions should be obtained from the applicable author or publisher of the image. Full text @ Elife