ZFIN ID: ZDB-FIG-150916-36
EXPRESSION / LABELING:
Genes:
Fish:
Knockdown Reagent:
Anatomical Term:
Stage Range:

Shield

to

Prim-5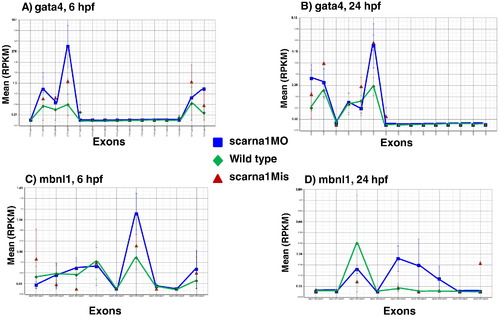 Fig. 7
Representative examples of splice isoform variation (exon retention) after treating zebrafish embryos with anti-scarna1 morpholino. Each point on the horizontal axis represents an exon and the value represents the mean RPKM (reads per kilobase per million) for that exon. Gata4 and Mbnl1, 6 and 24 h post fertilization (hpf).
Antibody Labeling Details
No data available
Phenotype Details
No data available
Acknowledgments:
ZFIN wishes to thank the journal Biochimica et biophysica acta. Molecular basis of disease for permission to reproduce figures from this article. Please note that this material may be protected by copyright.

Reprinted from Biochimica et biophysica acta. Molecular basis of disease, 1852(8), Patil, P., Kibiryeva, N., Uechi, T., Marshall, J., O'Brien, J.E., Artman, M., Kenmochi, N., Bittel, D.C., scaRNAs Regulate Splicing and Vertebrate Heart Development, 1619-29, Copyright (2015) with permission from Elsevier. Full text @ BBA Molecular Basis of Disease