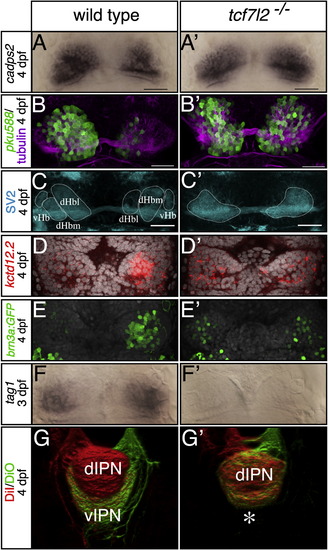 Fig. 2
tcf7l2 Mutants Show LR Symmetric Patterns of Epithalamic Neuron Differentiation
(A–F′) Dorsal views, with anterior to the top, of the habenulae of embryos labeled with markers at stages shown to the left. In (D–E′), nuclei (gray) are labeled with Topro3 and Sytox orange, respectively. All markers are symmetric in tcf7l2 mutants. Scale bars in (A)–(C′) represent 25 µm.
(G and G′) Dorsal views of 3D reconstructed confocal images of lipophilic-dye-labeled left (red) and right (green) habenular axons terminating in the IPN. The asterisk highlights the lack of axon terminals normally innervating the ventral IPN.
dHbl and dHbm, lateral and medial habenular subnucleus, respectively; dIPN and vIPN, dorsal and ventral interpeduncular nucleus, respectively; vHb, ventral habenular subnucleus. See also Figures S2 and S3 and Table S1.