ZFIN ID: ZDB-FIG-150127-15
EXPRESSION / LABELING:
| | |
| --- | --- |
| Genes: | |
| Fish: | |
| Anatomical Term: | |
| Stage: | Day 4 |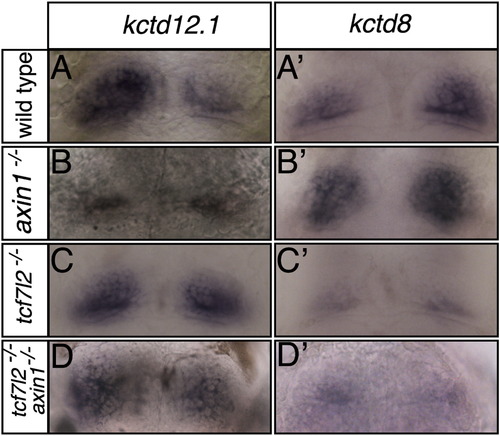 Fig. 6
The dHb Phenotype of tcf7l2 Mutants Is Epistatic to the Effects of a Mutation in axin1 that Enhances Wnt Signaling
Dorsal views of the habenulae of 4 dpf embryos of genotype shown to the left labeled with markers shown above columns (A–D′). The enhanced expression of kctd12.1 and reduced expression of kctd8 in tcf7l2 mutants is observed irrespective of the presence (C and C′) or absence (D and D′) of functional Axin1. See also Table S3.
Antibody Labeling Details
No data available
Phenotype Details
No data available
Acknowledgments:
This image is the copyrighted work of the attributed author or publisher, and ZFIN has permission only to display this image to its users. Additional permissions should be obtained from the applicable author or publisher of the image. Full text @ Curr. Biol.