ZFIN ID: ZDB-FIG-150127-10
EXPRESSION / LABELING:
| | |
| --- | --- |
| Gene: | |
| Antibody: | |
| Fish: | |
| Anatomical Term: | |
| Stage: | Day 4 |
PHENOTYPE:
| | |
| --- | --- |
| Fish: | |
| Observed In: | |
| Stage: | Day 4 |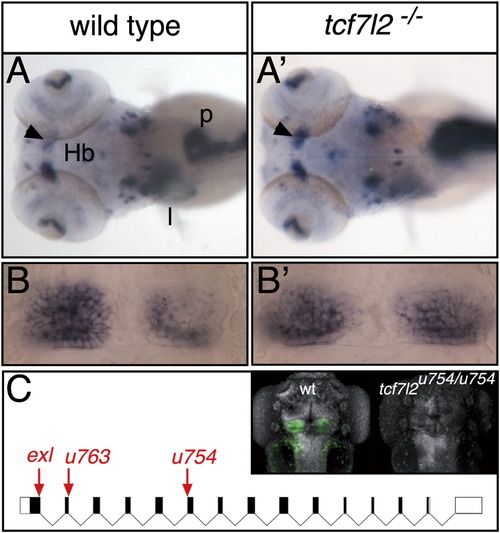 Fig. 1
tcf7l2 Is Required for the Establishment of Habenular Asymmetry
(A and A′) Dorsal views of 4 dpf (days postfertilization) embryos, with anterior to the left, labeled with a cocktail of markers that reveal habenular asymmetry (kctd12.1) and position of liver (sepB) and pancreas (trypsin). The arrowheads indicate normal (A) and increased (A′) kctd12.1 expression in the right habenula.
(B and B′) Dorsal views of the habenulae with anterior to the top showing symmetric kctd12.1 expression in a wild-type fry (B) and a tcf7l2 mutant (B′).
(C) Diagram of intron/exon structure for tcf7l2 showing the tcf7l2exl [26], tcf7l2u763, and tcf7l2u754 alleles. Arrows point to mutation sites. The inset shows dorsal views, with anterior to the top, of 4 dpf wild-type (wt) and tcf7l2u754/u754 mutant embryos stained for Tcf7l2 (green) and Sytox orange (gray).
Hb, habenula; l, liver; p, pancreas. See also Figure S1.
Antibody Labeling Details
Acknowledgments:
This image is the copyrighted work of the attributed author or publisher, and ZFIN has permission only to display this image to its users. Additional permissions should be obtained from the applicable author or publisher of the image. Full text @ Curr. Biol.