ZFIN ID: ZDB-FIG-150115-14
EXPRESSION / LABELING:
| | |
| --- | --- |
| Gene: | |
| Fish: | |
| Condition: | |
| Anatomical Terms: | |
| Stage: | Day 5 |
PHENOTYPE:
| | |
| --- | --- |
| Fish: | |
| Condition: | |
| Observed In: | |
| Stage: | Day 5 |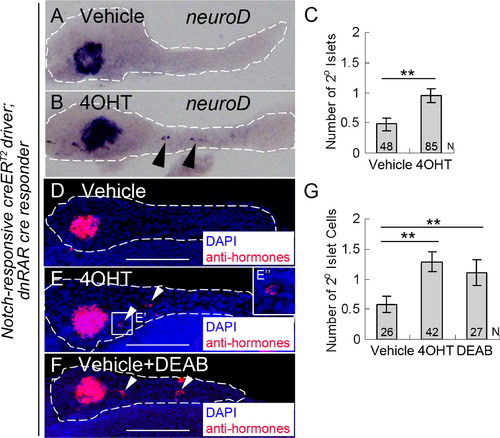 Fig. 5
PNC differentiation is regulated by endogenous RA signaling. (A and B) in situ hybridization for neuroD expression to detect 2° islets in 5 dpf pancreata from larvae transgenic for both the Notch-responsive creERT2driver, Tg(Tp1glob:creERT2)jh12, and the dnRAR cre responder, Tg(ubb:loxP-eCFP-loxP-dnRAR-GFP)jh39. These larvae had been incubated at 2 dpf with either vehicle (A) or 4OHT (B). (C) Average number of 2° islets/pancreas in vehicle or 4OHT treated larvae calculated by counting neuroD expressing islets. (D–G) Fluorescence immunostaining to detect hormone-expressing cells (insulin+/glucagons+/somatostatin+), facilitating quantification of 2° islet cells in larvae that were treated from 2–5 dpf with either vehicle (D), or 4OHT (E), or vehicle+DEAB (F). (E′′) enlarged image of (E′). (G) Average number of 2° islet cells/pancreas in vehicle, 4OHT, and vehicle+DEAB treated larvae calculated by counting for the number of hormone-expressing cells. **p<0.001. White dashes outline pancreata. 2° Islets in the tail region of the pancreas are indicated by arrowheads. N=number of larval pancreata quantified. Error Bar=SE. Scale Bar, 100 μm.
Antibody Labeling Details
No data available
Acknowledgments:
ZFIN wishes to thank the journal Developmental Biology for permission to reproduce figures from this article. Please note that this material may be protected by copyright.

Reprinted from Developmental Biology, 394(1), Huang, W., Wang, G., Delaspre, F., Vitery, M.D., Beer, R.L., Parsons, M.J., Retinoic acid plays an evolutionarily conserved and biphasic role in pancreas development, 83-93, Copyright (2014) with permission from Elsevier. Full text @ Dev. Biol.