ZFIN ID: ZDB-FIG-141016-22
PHENOTYPE:
| | |
| --- | --- |
| Fish: | |
| Observed In: | |
| Stage: | Shield |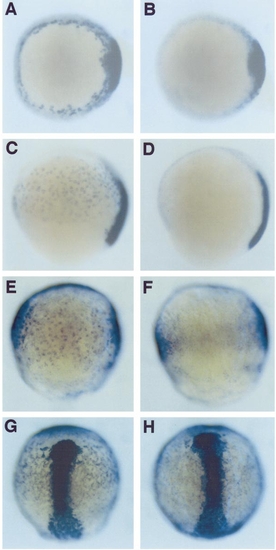 Fig. 3 The endoderm is defective in cas mutants from the onset of gastrulation. axial (A–D), gata5 (E, F), and fkd2 (G, H) expression in wild-type (A, C, E, G) and cas (B, D, F, H) mutant embryos at shield (A, B), 80% epiboly (C–F), and 90% epiboly (G, H) stages. Soon after the onset of gastrulation (A) axial is expressed in the embryonic shield and endodermal precursors located throughout the hypoblast. Endodermal axial expression is absent in cas mutants, while expression in the embryonic shield is normal (B); the few axial-expressing cells just outside the shield in the cas mutant are likely notochord precursors that have not yet completed dorsal convergence. At midgastrulation wild-type embryos express axial in the endodermal precursors and the prechordal plate and notochord (C); no endodermal expression of axial is seen in cas mutants (D). gata5 expression also identifies endodermal precursors within the hypoblast of wild-type (E) but not cas mutant (F) embryos. gata5 expression in the anterior lateral mesoderm precursors and YSL, which is out of focus (E), appears normal in cas mutants (F). fkd2 is expressed in endodermal precursors in wild-type embryos, as well as in the YSL and axial mesoderm (G). cas mutants specifically lack endodermal fkd2 expression (H). (A, B) Animal pole views; (C, D) left lateral views, anterior to the top; (E–H) dorsal views, anterior to the top.
Antibody Labeling Details
No data available
Acknowledgments:
ZFIN wishes to thank the journal Developmental Biology for permission to reproduce figures from this article. Please note that this material may be protected by copyright.

Reprinted from Developmental Biology, 215(2), Alexander, J., Rothenberg, M., Henry, G.L., and Stainier, D.Y.R., casanova plays an early and essential role in endoderm formation in zebrafish, 343-357, Copyright (1999) with permission from Elsevier. Full text @ Dev. Biol.