ZFIN ID: ZDB-FIG-080918-34
EXPRESSION / LABELING:
| | |
| --- | --- |
| Gene: | |
| Fish: | |
| Anatomical Terms: | |
| Stage: | Long-pec |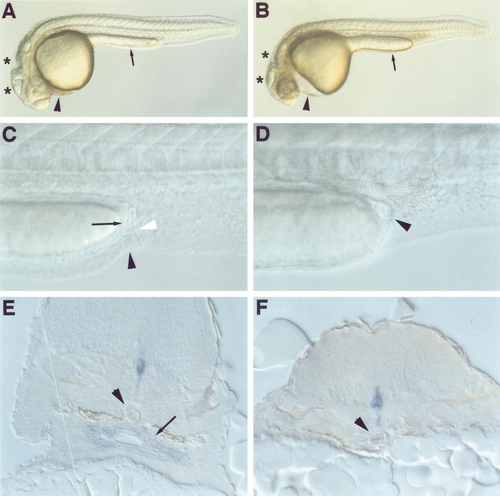 Fig. 1 cas mutants lack a gut tube. Nomarski optical images (A–D) and histological sections (E, F) of embryos at 24 (A, B), 36 (C, D), and 48 hpf (E, F). Compared to a wild-type sibling (A), the cas mutant (B) shows pericardial edema (arrowhead), collapsed brain ventricles (asterisks), and a thicker yolk extension (arrow). In wild-type embryos (C) the still-forming intestine (arrow) and anal opening (black arrowhead) are visible, immediately anterior to the pronephric ducts (white arrowhead). Neither the intestine nor the anal opening is evident in cas mutants (D); arrowhead indicates the cyst present in cas mutants. (E) The shh-expressing gut tube (arrow) sits between the notochord (arrowhead) and the yolk in wild-type embryos. In cas mutants (F) no gut tube or shh-expressing endodermal cells are evident and the notochord (arrowhead) rests nearly upon the yolk. Expression of shh in the floor plate is evident in both wild-type and cas mutant embryos. (A–D) Lateral views, anterior to the left and dorsal to the top; (E, F) transverse sections through the upper trunk and yolk ball.
Antibody Labeling Details
No data available
Acknowledgments:
ZFIN wishes to thank the journal Developmental Biology for permission to reproduce figures from this article. Please note that this material may be protected by copyright.

Reprinted from Developmental Biology, 215(2), Alexander, J., Rothenberg, M., Henry, G.L., and Stainier, D.Y.R., casanova plays an early and essential role in endoderm formation in zebrafish, 343-357, Copyright (1999) with permission from Elsevier. Full text @ Dev. Biol.