ZFIN ID: ZDB-FIG-140228-24
Püschel et al., 1992
- Sequence and expression pattern of pax-6 are highly conserved between zebrafish and mice. Development (Cambridge, England) 114:643-651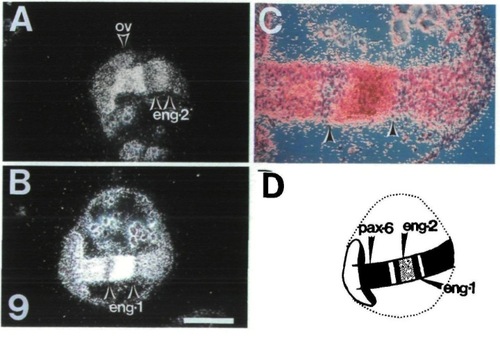 Fig. 9 pax-6 and eng-genes are expressed in adjacent regions. Adjacent horizontal sections of 14 h embryos were hybridized with probes specific for pax-6 or eng-1 separately or with pax-6 and eng-2 (A) or pax-6 and eng-1 (B, C) together. Anterior is to the left. Only sections with the double-hybridization are shown. Arrows delineate the limits of eng-1/2 expression. The signals to the left and to the right of eng-1 expression are specific for pax-6. The eng genes are expressed in the gap of pax-6 activity in the mes- and metencephalon. C is a higher magnification view of B. The eng-1 expression domain is separated from that of pax-6 by about 5 to 10 cells which show no activity of either gene. (D) Schematic summary of the superimposed expression domains. Stippled areas express pax-6, the dark areas express only eng-1 and the lightly stippled area expresses both eng-1 and eng-2. The broken line indicates the edge of the yolk. Scale bar is 200 μm in A, B, D and 80 μm in C.
Antibody Labeling Details
No data available
Phenotype Details
No data available
Acknowledgments:
ZFIN wishes to thank the journal Development (Cambridge, England) for permission to reproduce figures from this article. Please note that this material may be protected by copyright.